The NU Innovators Challenge 2018
Making School-to-University Transition Seamless
The Final Round of NU Innovators Challenge 2018 (NUIC 2018) was held on campus on Wednesday 30th January 2019.
NUIC 2018 consisted of two rounds – Selection Round and Final Round. In the Selection Round, students from the Sciences, Humanities and Commerce streams, nearing 2000 in number from 29 select schools took part. The school students showcased 136 innovative projects and 610 innovative ideas under the able guidance of their teachers and active encouragement by the school principals and management. While the projects had been worked upon for some months, the innovative ideas were conceived by the students on the spot as part of an ideation workshop called Let's Innovate. The Let's Innovate workshop is an ideation workshop which begins with a talk on relevance of innovation through some contemporary and hard-hitting examples of innovation. Various tools and techniques to innovate such as Brainstorming, Scamper, Empathy Map, etc. are introduced. Students then form groups and identify a bothersome societal problem and propose their solution to the same. These ideas were evaluated by a two-member faculty panel that personally visited each school in the Selection Round.
The Final Round of the Challenge began with Prof. Rao, President, NIIT University welcoming the participants and their teachers to the Challenge and stating the intent and relevance of NUIC. This was followed by the introduction of the external judges by Prof. Sunil Khanna, Dean Research.
Next, the students broke up to participate in their respective tracks. The Final Round consisted of three tracks. Two tracks were devoted to innovation projects wherein students were expected to present the prototype or model that they had worked upon to demonstrate how they solved a societal problem. The third track consisted of presentation of ideas thought of by students to handle problems that they were experiencing around them.
31 innovative projects and 9 innovative ideas were presented to 4-member panels of judges drawn from outside as well as within NU. After a grueling round with the judges, the students and teachers were taken on an Eco-Tour and Tree planting expedition by Air Cmde Kamal Singh, Advisor NU.
This was followed by the Award ceremony. In the Projects tracks, 5 projects, both tracks included, made it to the top as there was a tie for the 1st and 2nd Runners-Up positions. In the Let's Innovate track, three ideas made it to the top and were deeply appreciated by the judges. The students were awarded certificates of recognition for rising to the challenge and coming up with innovative solutions. NUIC 2018 ended with Prof. Parimal V Mandke, Dean Academics delivering the Vote of Thanks.
A short talk was organized for teachers on Teaching-Learning Process Innovation by Prof. Vijay Mandke and Meera S Datta. Prof. Vijay Mandke spoke about Learning Engineering and NU's process innovation in teaching-learning. Meera S Datta shared learning innovations undertaken at NU as Nanoelectronics EPL as well as academic initiatives such as the annual Teaching-Learning Symposium for school teachers that provides a platform to them to share their classroom best practices, the innovative M.Tech in Educational Technology and Doctoral programmes offered by the ET Area.
Judges Panels
Dr. Sunita Farkya
Professor
Department of Education in Science and Mathematics, NCERT, New Delhi.

Prof. S.K. Palhan
Great Lakes Institute of Management
B. Tech (Hons) IIT Kharagpur,
DIM, MBA (FMS, Delhi Univ.)
Dip. ATIM (The Netherlands)

Mr. Prabir Sen
Trustee, Indus Quality Foundation, engaged in inculcating values in school going children • Trustee, Life Spring, inculcating value of education, National Integration for the children of slums
Founder, Abani Sen Art Foundation, engaged in displaying and archiving of works of Art • Electrical Engineering IIT Delhi Surface Science instrumentation Training, USA Mr. Arun Kumar
Co-founder, SINCGRID
Electronics & Communications Engineering, NSIT Delhi

Mr. Rajneesh Sareen
Programme Director
Sustainable Building & Habitat Programme, Centre for Science and Environment
Mr. Arun Kumar
Co-founder, SINCGRID
Electronics & Communications Engineering, NSIT Delhi
Prof. Vikas Upadhyaya, ECE Area, NU - https://www.niituniversity.in/faculty/vikas-upadhyaya
Prof. Soumyadeep Chakraborty, BT Area, NU - https://www.niituniversity.in/faculty/soumya-chakraborty
Prof. Debashis Sengupta, CSE Area, NU - https://www.niituniversity.in/faculty/debashis-sengupta
Prof. Vinay Sharma, ECE Area, NU - https://www.niituniversity.in/faculty/vinay-sharma
Session Coordinators
Dr. Nitin Bhatia, ECE Area, NU - https://www.niituniversity.in/faculty/nitin-bhatia
Dr. Gaurav Varshney, CSE Area, NU - https://www.niituniversity.in/faculty/gaurav-varshney
Dr. Ipseeta Nanda, ECE Area, NU - https://www.niituniversity.in/faculty/ipseeta-nanda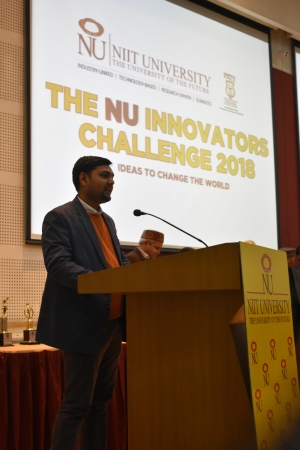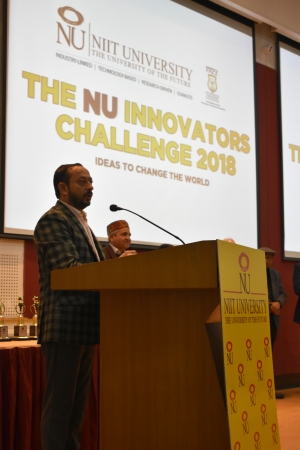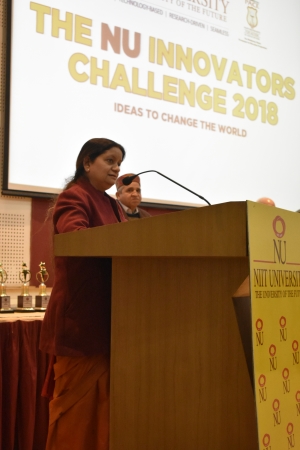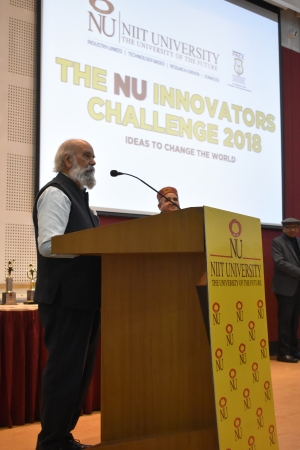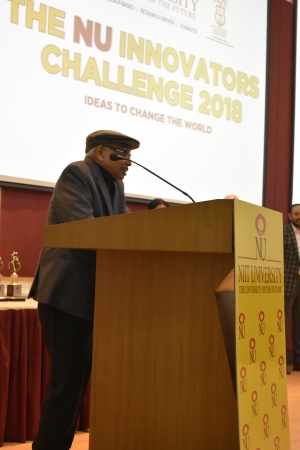 Top Three Innovative Projects
| | | | | |
| --- | --- | --- | --- | --- |
| Place | Project Name | Student Names | School Name | Brief Description |
| Winner | RajoShakti | Devatrai Jha Saanvi Puri Aarzoo Haideri Radhika S Priyanshi Mathur Sakshi Mahajan | Venkateshwar International School, Sector-10, Dwarka | A bio-degradable and sustainable way to Menstrual Management. |
| 1st Runner-Up | Aquaponics | Yesh Khanna | VSPK International School, Rohini | Aquaponics is a new area of farming and crop cultivation. Basically, aquaponics is a combination of aqua-culture(raising aquatic animals in a controlled environment) & hydroponics (cultivating plants in water). Why aquaponics? Well, the answer is quite simple- IT SAVES WATER, SPACE (not to forget the economic benefits). |
| 1st Runner-Up | Internal Static Navigation | Viraaj Bhatnagar Rohan Joshi | Tagore International School, Vasant Vihar | The sole purpose of this app is to provide aid to the visually impaired so that their dependence on others is greatly reduced. Maverick is our solution to help make the visually impaired better aware of their surroundings via acoustic means. In conjunction to it our app, which brings the library to the palm of the hands in a user-friendly way. This app also provides navigation so that one could traverse the building without any human aid. |
| 2nd Runner-Up | All Terrain Electricity Producing Shoes | Nikhil Gupta Rachit Rana | VSPK International School, Rohini | ATEPS includes a shoe in which we have placed four ignitors (used in lighters). When we walk, they're pressed and produce a spark. As soon as the spark is produced, current produced flows throw a low-resistance copper wire to a charge a rechargeable cell (2500mAh). As we walk, the cell simultaneously gets charged from where the battery is directly connected to a USB rechargeable circuit which enables us to use the stored energy to charge any USB appliance. This has been tested in very rough grounds. It has three times faster charging capacity than that of a regular charger. We have also placed a Power Backup which would always be charging when we are walking. |
| 2nd Runner-Up | Smart Blind Aid | Harshpreet Singh Sanchi Arora | Sri Venkateshwara International School, Sector 18, Dwarka | Smart Blind Aid detects the object in front of it and beeps with a help of a buzzer. It also has an automatic light attached to it. The aid is also designed many further purposes. |
Top Three Innovative Ideas
| | | | | |
| --- | --- | --- | --- | --- |
| Place | Entry No. | Team Members | School Name | Problem Tackled |
| Winner | 029-011 | Parisha Vasudeva Kritika Agarwal Anika Aggarwal Somya Jain | Maxfort, Rohini | Working people students do not get time to prepare healthy meals and have to rely on unhealthy fast food |
| 1st Runner-Up | 007-001 | Harsh Aggarwal, Harsh Airm, Piyush Kalra, Umang Gupta | VSPK International school | Addiction in digital imaging and gaming has led people become physically inactive |
| 2nd Runner-Up | 009-020 | Gaurang Behl | St.Angels Sr.Sec School | Next Meal for the Poor |
Some Glimpses of NUIC 2018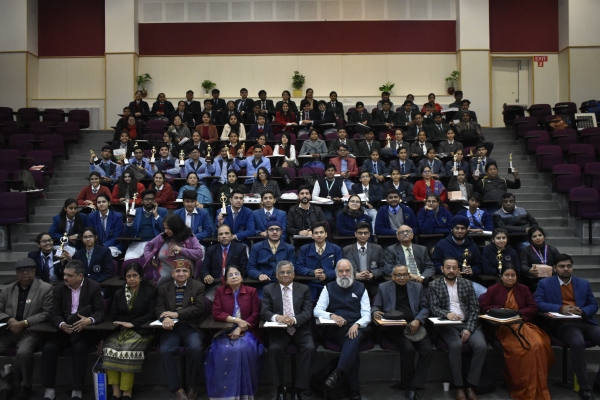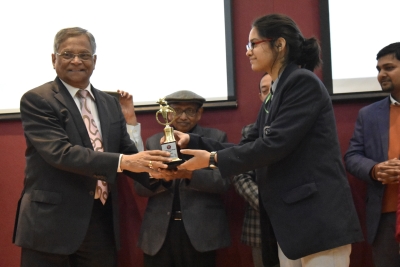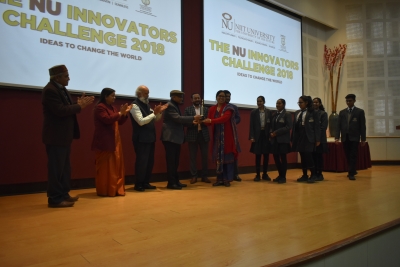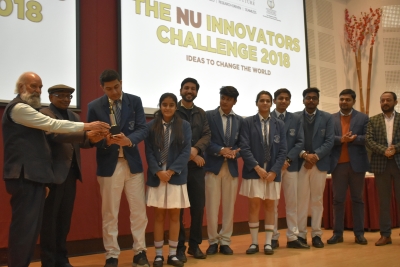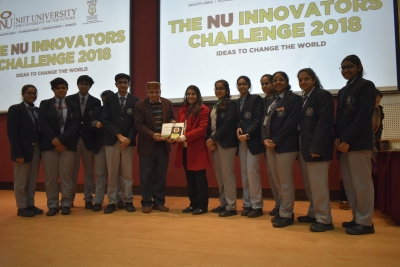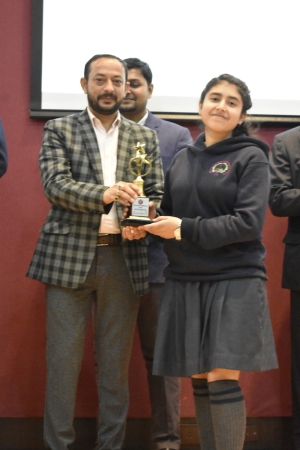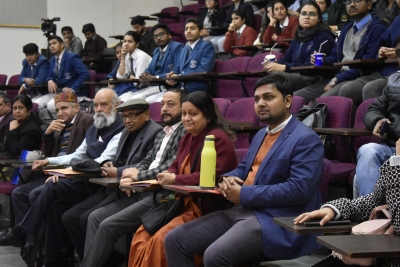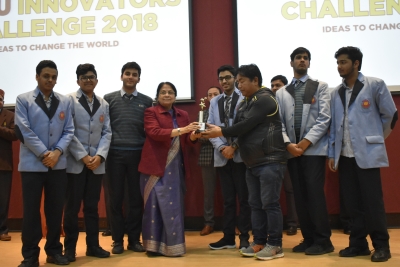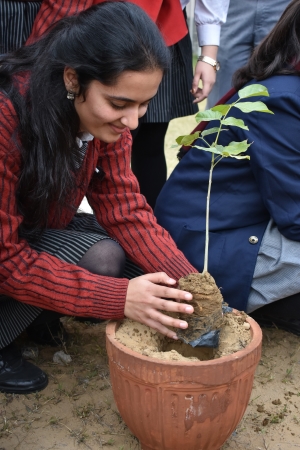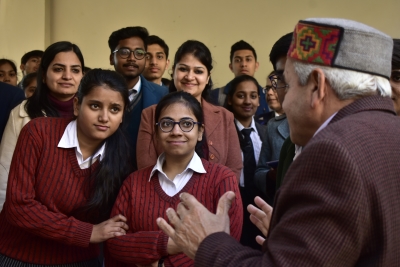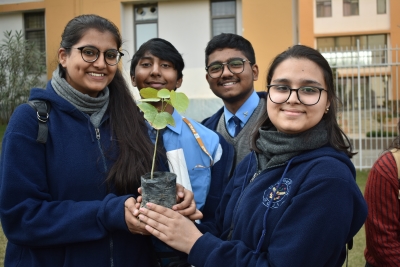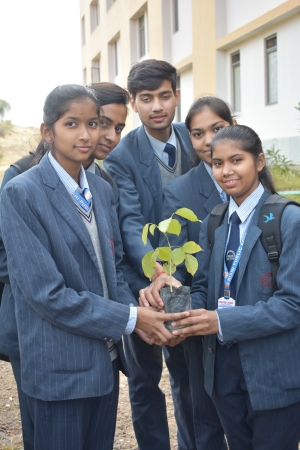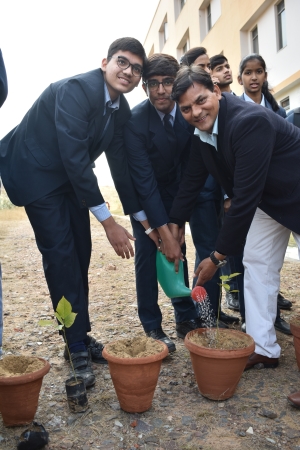 About NUIC
As a forward-thinking University of the Future, NU believes that students choosing a university programme must be provided all the necessary knowledge and information to enable them to make informed choices. The NU Innovators Challenge helps achieve this by encouraging students to come up with research-based, data-driven innovative solutions to current societal problems with the potential to transform into products or policies. In the process, students from the Sciences, Commerce or Humanities streams, will understand the creative and problem-solving mindset that is essential to do good engineering and management.
Purpose
To bring awareness in students about the creative & problem-solving mindset that is essential to do good engineering and management thus enabling them to make wise career choices.
For whom?
All Class XII students from Science, Commerce & Humanities streams

Dates
Submissions for NUIC 2018 are closed. NUIC 2019 will be announced shortly


About Previous NU Innovators Challenge – Top 3 Innovations
https://www.niituniversity.in/campus-buzz/updates/the-nu-innovators-challenge-jan-2017
| | | |
| --- | --- | --- |
| | Title of Innovation | School |
| Winner | Vitamin D Deficiency & its Cure | Sadhu Vaswani International School for Girls |
| 1st Runner-Up | New Age Car | Guru Tegh Bahadur 3rd Centenary Public School |
| 2nd Runner-up | Drag-Track | Ram-eesh International School |