B Tech Electronics & Communication Engineering (ECE) Programme
The B Tech Programme in Electronics & Communication Engineering aims to create professionals who can engineer large, relevant and robust electronics & communications systems. The programme provides students a strong foundation in the fundamentals of electronics and communications engineering through courses such as Analog & Digital Communications, Digital Logic & Circuits, Coding & Information Theory, etc. The programme then provides mastery over advanced topics in Embedded Systems, Wireless Broadband Communications and Digital Signal Processing to enable students straddle the overlapping fields of Electronics, Communications and Computer Science.
Specialisation in B. Tech ECE
Wireless Communication
Communications and Signal Processing
VLSI & Embedded Systems
Internet of Things
Data Science
Robotics and Automation
Programme Design Philosophy: ECE Features
The four-year (8-semesters) B Tech Programme in Electronics & Communication Engineering uses Industry-linked Project-based Learning as a basis wherein students apply what they learn by executing mini-projects of relevance to the industry. This not only minimizes the gap between classroom and practice but also orients the student to solve current and future industry problems.
Some unique features that enable the above are:
Workshop Practice – A path-breaking approach to orient future engineers to product development. Students undergo the complete idea-to-product development life cycle from circuit design, PCB design and fabrication, PCB assembling and testing, product packaging including designing and fabrication of the housing. They also get exposure to modern manufacturing processes through working with CNC machines.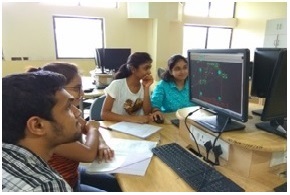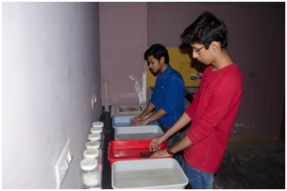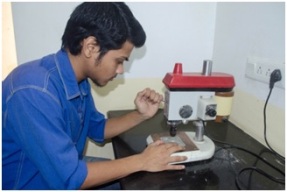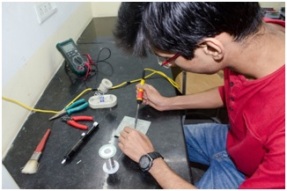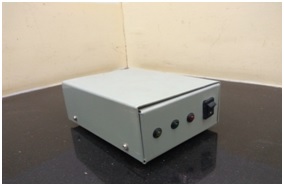 Silicon d'Art - A unique learning methodology that uses exhibition as a mode to encourage students to build prototypes and demonstrate them as part of a course. Students choose project ideas of practical importance in day-to-day life from diverse fields such as Robotics, Automation, Security, Communications, Surveillance and Gaming and build prototypes from scratch. This encourages not only out-of-classroom learning but also the entrepreneurial spirit in them. Some interesting projects executed are – E-Glove, Heartbeat Counter, Bluetooth Key Finder.
Undergraduate Research –An opportunity provided to B Tech students to undertake research work at the undergraduate level itself. The curriculum of B Tech Electronics and Communication encourages subject specific research and development activities in frontier areas of the domain under the guidance of ECE faculty. Those interested can continue working on the project during summer term. NURap (NU Research Assistantship Programme) provides a monthly monetary assistantship and can be availed of during the R&D Project and afterwards also if the project work continues.
ECE Students at CANSAT 2015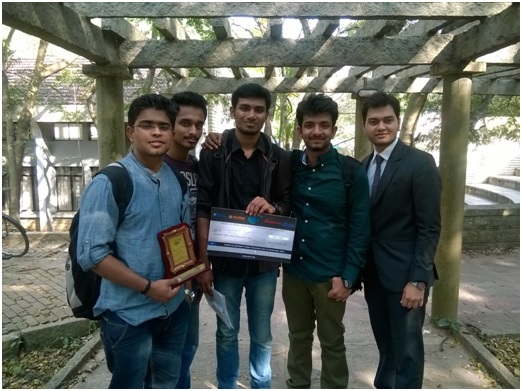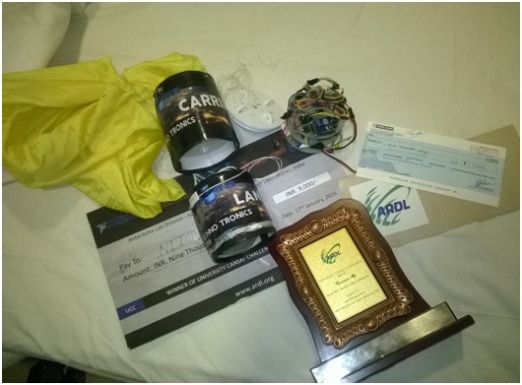 Industry Practice –A mandatory component that enables students to work in the industry on real projects under direct guidance of industry professional.This Industry-linked academic program enables students to graduate with the skills, knowledge and hands-on experience sought by employers worldwide. It not only helps in identifying right career opportunities but also equips them with the ability to give direct their own careers.
Laboratories @ NU-ECE
Well-equipped labs are made available to B Tech and Doctoral students all through the year to pursue their academic and research work. See https://www.niituniversity.in/research/labs-and-centres-of-excellence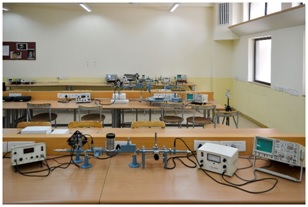 Microwave and Antenna Lab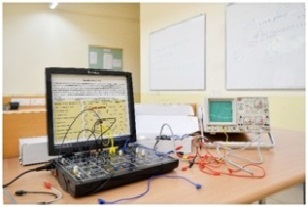 Optical Communication Lab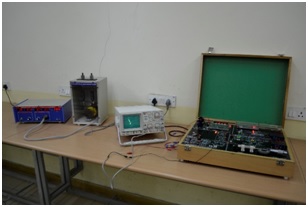 Power Electronics Lab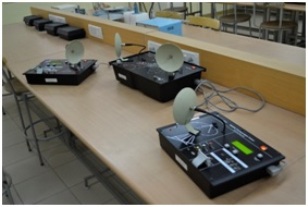 Satellite Communication Lab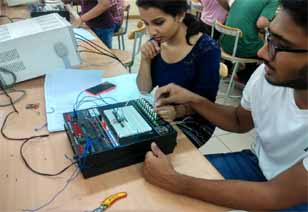 Digital Logic and Circuits Lab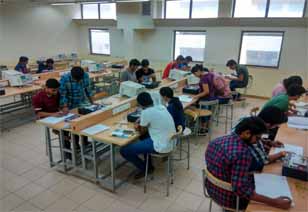 Lab in progress...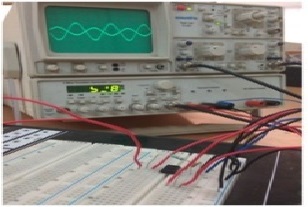 Analog Communication Lab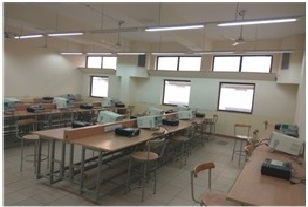 Analog Communication Lab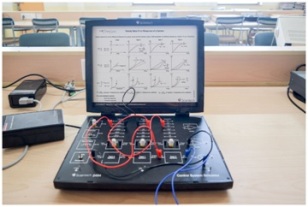 Control Systems Lab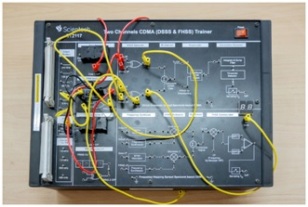 Wireless Communications Lab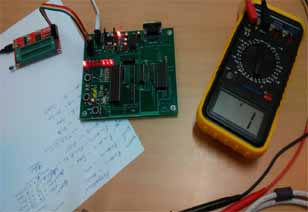 Microprocessors and Microcontrollers Lab
Lab in progress...
Faculty @ NU-ECE
With the right mix of experienced and young faculty as well as adjunct faculty drawn from relevant industry and research institutions, students in the ECE area get to work with the best minds in the field. In addition to teaching and institution building responsibilities, the committed faculty are actively involved in research publishing their work in reputed conferences and journals – both national and international. B Tech and Ph.D students are involved in all research activities. Faculty at NU – Electronics & Communication area are conducting research in the broad areas of communications and signal processing, wireless broadband communications, cognitive radio and sensor networks and vehicular communications.
Programme Outline
Semesters

8 (4 Years)

Total Credits:

178

ECE Core Courses

52 credits

ECE Electives

20 credits

Industry Practice

20 credits

R&D Project

4 credits

Breakup of a Typical Course

Lectures

61%

Tutorials

4%

Practicals

35%
List of Professional Core Courses in ECE
Digital Logic and Circuit
Analog Electronics
Signal & System
Electromagnetic Theory
Digital Signal Processing
Analog and Digital Communications
Integrated Electronics
Communication Network
Antenna and Microwave Propagation
Microprocessor & Microcontroller
Fiber-Optic and Satellite Communications Systems
Control Theory
Coding and Information Theory
List of Professional Elective Courses in ECE
Advanced Embedded Systems
Advanced Digital Signal Processing
Digital Image Processing
Wireless Broadband Communications
Optical Networks
Non-Linear Optical Communication
Satellite Communications
Advanced VLSI
Internet of Things
Computer Vision
Power Electronics
Radar Engineering
Cellular and Mobile Communications
Advanced Wireless Broadband Communications
List of Open Elective Courses in ECE
Artificial Intelligence
Artificial Neural Networks
Statistical Modeling for Data Science
Wireless Sensor Networks and Applications
Machine Learning
Computational Geometry and Applications
Cyber Security
Data Mining
Introduction to Information Security
Natural Language Processing
Activities @NU-ECE
ECE NUtons at Tech Fests
The Robotics Club participated in several events winning honors and awards along the way. The teams, led by ECE 3rd year students, included students from 1st to 3rd year from both ECE and CSE streams.
Techkriti at IIT Kanpur - 2018
IARC (Flagship event) – Reached Finals, stood in top 10 among 50 teams
ELECTRADE(Flagship Event) - Shortlisted for Round 2 among 30 teams
BEST MANAGER (Business events) - Shortlisted for Round 2
MANDAKINI (Astrophysics) - Stood 4th
CREATIVE MAPPING (ARTS) - One of the top teams among 10 teams
Cliffesto at NIT Srinagar -2018
Robosoccer (Flagship event) – 3rd Place
Flotter – 2nd Place
Debugger competitions – 3rd Place
Apogee at BITS Pilani - 2018
Hackatronics (Flagship event) – 1st Place
Robosoccer (Flagship Event) – 1st Place
Good-bye Earth – 1st Place
Bob the Builder – 2nd Place
Everyone Dies – 2nd Place
Industry Linkage with ST Microelectronics
3rd Year ECE students are undertaking a unique pedagogical experiment that will further strengthen Industry-Course linkages thus making the course content industry relevant. Students are working on live ST Microelectronics projects under direct industry guidance while undergoing their courses in the University.
STM Boards and IDE (Integrated Development Environment) have been made available to the students. Virtual Meeting tools and email are used by students to communicate with their STM supervisor daily. This unique experience will prepare them better for Industry Practice and Placements.
NIIT University IEEE Student Chapter
IEEE Student Chapter was opened at NU giving an opportunity for NU students to participate and collaborate in research and innovation activities at national and international level. Prof. Mahesh Bundele, SMIEEE Membership Chair, Rajasthan Sub-section, spoke at the inaugural function.
R&D Projects at B.Tech
Design and hardware realization of Semiconductor Parameter Analyzer
Using Technology for Yoga Posture Monitoring to Assist Improving Social and Academic Skills Acquisition Ability of Educable Students
P-Agri: Pervasive Agriculture
Detection of the size of any body part using Image Processing
Energy-Efficient Approach Towards Network Intelligence in Cooperative Communication in Vehicle Environment
Sign Realization of Multimedia Sequences
Segregating photographs based of face detection
Design analysis of Rectennas for wireless energy harvesting
Development of WiMAX based Cognitive Communication Technology
Self-Acquisition of Critical Skills using Mobile Apps for Adolescents with Learning Disabilities
Design of power aware routing for Ad-Hoc networks in disaster recovery
Design of a secure smart card-based multi-server authentication scheme
Effective end-to-end authentication scheme for wearable health monitoring systems
Industry Practice Work Undertaken
Organization - CDIL (Continental Device India Limited), R&D Division
Projects
Automatic Functional Card Tester for Air Conditioner's Electronic Card
Automatic LED Driver Tester
IoT (Internet of Things) enabled Air Purifier Product
Organization – PhotoElectricChefs
Projects
Water Metering
Vehicle Tracking System (Boom Barrier Integration)
Organization – Applied Solar Technologies
Projects
Battery balancing and monitoring
Site Data Analysis and hardware testing
Organization – ECIL (Electronics Corporation of India Limited)
Design and development of Board support package device drivers for single board computer based on Freescale processor
Application Development based on Bluetooth Low Energy, WiFi and Zigbee (Internet of Things)
Organization – Samtel Avionics
Project
Wireless Data Acquisition System using ARM Cortex Microcontrollers
Organization – Ahoy Systems
Project
IoT-based Smart E-surveillance for Bank ATMs
ECE Students Placements
Honeywell
Havells
Team Indus
Vidyut Yantra Udyog
Spectross
Next Education