Resonance – NU's Student Orientation Programme
NU (NIIT UNIVERSITY) has conceived, designed and developed a unique university-orientation programme, called Resonance, for fresh students to make the university journey joyous and rewarding. The orientation programme has been running ever since the university started its operations in 2009. Parents too get to participate in the programme on the first day.  They get to interact with NU Leadership and raise their concerns. They are taken on a tour of the campus, trek up the the hills at the back and climb into the EAT (Earth Air Tunneling) system – a sustainable, environment friendly campus facilities cooling system.
Resonance 2020
The NU Induction Programme began on 10th August 2020 for new students joining in the Academic Year 2020-2021. Due to the constraints imposed by the pandemic, entire programme has been redesigned and will be conducted online!
The Induction Programme started with the Head Start Boot Camp (HSBC), a session specially designed for students who have enrolled under the Early Admissions Mode offered by NU. This is the first session that NUtons will undergo in their academic journey. For B.Tech students, the session is titled – PROTHINK – and revolves around 'Programmatic Thinking'. It is designed to enable problem solving skills using flowcharting as a tool. Focus is on problem decomposition and managing the problem by addressing simple constructs. The tools used are flowcharts and related graphic tools. At the end of the session, fresher NUtons will be able to solve large and complex problems using the techniques learnt.
PROTHINK is conducted by Prof. Eswaran and Prof. Deepika Prakash from the CSE area. Prof. Debashis, Area Director, CSE and Prof. Eswaran also conducted an interesting session – Magic of Numbers – for freshers of both B.Tech and Integrated MBA programmes.
NU RESONANCE 2020 (17th August – 31st August 2020), the induction programme for all fresher NUtons consists of several interesting sessions:
Prof. Prabhu Aggarwal, President, NIIT University - Welcoming the students to NU
Founders, Mr. R.S. Pawar & Mr. Vijay Thadani - Sharing their vision and experience
Prof. Parimal Mandke, Vice President – Journey through the unique education process followed at NU
Maj. Gen. A. K. Singh, Dean Student Affairs - A virtual campus tour as well as a virtual trek to Suryoday Sthal
Air Cmde Kamal Singh, Advisor and NU Leadership team - experience of viewing the beautiful sunset at Asthachal virtually
Prof. Ratna Sanyal, Dean Research - Undergraduate research opportunities at NU
Prof. Vijay Mandke, Founder & Mentor Professor - Preparing for the Unknown - Learning Futures
Several interesting sessions - Design My Future, Learning to Listen, Unnat Bharat and Swachh Bharat, Problems, Perspectives & Possibilities and many more
Invited Talks by eminent personalities
The key objectives of NU's orientation programme for fresh students are:
Make the transition from school to university smooth for new students by familiarizing them with academic and campus life at NU
Enable them to get to know their batch mates, seniors and faculty members thus forging the way for friendships and collaborations lasting a lifetime
Expose them to ways of gainfully using their new-found freedom
Become self-aware and reflective learners by undergoing NU's unique teaching-learning practices
Internalize the NU Way by absorbing values and aligning with NU Vision and Mission
Resonance 2019
Resonance 2018
Resonance 2017
Resonance 2016
Resonance 2019
Resonance 2019 began on Friday, July 12th and ends on Saturday, Aug 03rd. A key activity in Resonance 2019 was a workshop specially designed to enable fresh students to draw a roadmap to achieve their life aspiration.
Design My Future Workshop
Fresher NUtons underwent a two-day workshop – 'Design My Future' (DMF) as part of NU's Induction programme – Resonance 2019. DMF is a specially designed programme conducted by invited experts.
As part of the workshop, every student undertook a Career Navigator Exercise, a test that allows them to find out the careers they are most suited for. 
The students were then taken through as set of group activities designed to increase self-awareness and helping them visualize their careers after graduation. 
At the end of the workshop each NUton came up with his/her Career Vision & Purpose and built a roadmap with timeframes to achieve the same.
The Design My Future initiative goes beyond the 2 days of the workshop. It provides individual mentoring to the fresh recruits for the entire 4 year duration at NU. Students will be mentored by NU faculty, CIC (Centre for Industry Collaboration) mentors and external experts with several years of industry experience.
Invited Speakers
Mrs. Syeda Imam, Writer & Filmmaker
Mr. Rajendra Singh, Waterman of India
Mr. Mahesh Shastry, Flynava
Mr. Ashish Kashyap, Finzoom Investment Pvt Ltd.
Mrs. Parvathy Eswaran, Storyteller
Mr. Pradip Baijal, Former Chairman, TRAI (Telecom Regulatory Authority of India
Mr. Harpal Singh, Chairman,
Impact Projects Pvt. Ltd.
Mr. Om Prakash Pal, Director Campaigns, Kailash Satyarthi Children's Foundation
Mr. Vamsi Krishna Rupakula, Global Head, Infrastructure Management Services, NIIT Technologies
Mr. Rajat Rai, Senior Analyst, PwC (NU Alumni)
Ms. Ayushi Jain, Data Specialist, IBM (NU Alumni)
Mr. Arvind Thakur, Former Chairman & Managing Director, NIIT Technologies
Maj. Gen. Neeraj Bali, Retired from Indian Army
Mr. R Ramanan, Mission Director, NITI Aayog
Mrs. Harjinder Kaur Talwar, President, FLO (FICCI Ladies Organization)
Mr. G K Sukumar, Vice President Global Training Services, IBM
Activities
Theater
Robotics
Adventure
Music
Dance
Yoga and Meditation
Photography and Video making
Arts
Debate
Computer Gaming
Sports
Basketball
Badminton
Volleyball
Soccer
Gym
Table Tennis
Cross Country
Cage Cricket
Resonance 2018
NU's orientation programme for Early Admissions students, called Head Start Boot Camp (HSBC), was held from Saturday, July 7th to Saturday, July 14 2018.  Apart from campus, faculty and seniors familiarization activities, the programme had intensive workshops on Actionable Analytics, Robotics & IoT, Digital Marketing and Business Ideation.
NU's orientation programme for new students - Resonance 2018 - began on Friday July 13th  2018. The intense and precisely-planned programme ended on Saturday August 04th 2018 by which time fresh NUtons felt completely at home on the campus, had made friends with their batchmates and seniors & were aligned to the NU Way.
The programme began with the Registration process for fresh students. While the students were busy completing registration formalities, parents got an opportunity to ask questions and clarify any issues during the 'Interaction with NU Leadership' sessions which had the President and Deans. 
There were separate sessions by Mr. R. S. Pawar, Founder – NU & Mr. Vijay Thadani, Co-Founder – NU for students and parents. Mr. Thadani's spoke about the seven Ps to realize your future that was very well received by parents and students.  The session was followed by the 'The President's Welcome Dinner for Parents of NUtons 2018' hosted by Prof. V. S. Rao, President – NU.
The students also had a one-on-one session with the Deans & Area Heads during the Coffee with the Deans sessions.  Prof. Parimal V. Mandke, Dean-Academics, Prof. Sunil Khanna, Dean-Research & Area Head – BT, Prof. Prosenjit Gupta, Area Head – CSE, Prof. Navin Kapoor, Area Head – ECE, & Prof. Sushil Kalyani, Area Head – Mgmt participated in individual discussions.
Resonance 2018 facilitated fresh NUtons to imbibe life-changing values from the Invited Talks series that saw luminaries & technology leaders such as Mr. Pavan Verma, Mr. Aravind Thakur, Mr. Arun Maira, Ms. Chhavi Rajawat and many more. It also had NU's alumni, Ms. Prachi Singh (B.Tech – Biotechnology) and Mr. Saharsh Tibrewal (B.Tech – CSE) sharing their student-to-workplace transition journeys.
Invited Talks
| | |
| --- | --- |
| Speaker | Title |
| | |
| Sameer Anja, Co-founder & COO, Arrka | Cyber Security & Data Privacy |
| Som Mittal, Former President & Chairman, NASSCOM | Where are We Headed |
| Arvind Thakur, Vice Chairman & Managing Director, NIIT Technologies | Opportunities & Challenges in Tech Industry |
| Mohit Thukral, Senior Vice President, GENPACT | Future of Work |
| Pavan Verma, Former Indian Foreign Services (IFS) Officer and Rajya Sabha MP | Adi Shankaracharya |
| Chhavi Rajawat, Sarpanch, Village Soda | Inclusive Development |
| Rajendra Singh, Waterman of India | Solutions to Global Warming and Climate Change |
| Pramod Bhasin, Vice Chairman, GENPACT | |
| Arun Maira, Former India Chairman, Boston Consulting Group (BCG) | Listening and Learning |
| Harpal Singh, Chairman Emeritus, Fortis | Perspectives |
| Prachi Singh, NU Alumni | Anything can Happen |
| Saharsh Tibrewal, NU Alumni | #LifeisFunny |
In keeping with its guiding declaration – University of the Future – a workshop on 'Design your Future' was conducted for the students.  The workshop provided several tools and techniques that the students could use to convert their career aspiration into goals and goals to actions so that they could begin to work towards achieving them from day one.
Other workshops such as 'Know your Learning Styles', 'Learning to Learn', & 'Intensive Programming' aimed at assisting students to become strategic learners with abilities to pick up higher order thinking & performing skills that are required in workplaces. Challenging activities such as Branding Game, Contemporary Business Issues and movies on Management brought home interesting perspectives to students.
Several activities both outside the classrooms and outside the campus were conducted. Students visited the Neemrana market just outside the campus and made visits to the Rani ki Baoli, an awe-inspiring 9-storied stepwell & the magnificent Neemrana fort as part of the Neemrana Heritage Visit. 
Exploring the campus included treks to scale the various peaks of the hills right behind the campus – Camel's Back, SCAR, to name a few as well as Valley Crossing. Students also planted trees and explored the workings of the green campus cooling system – Earth Air Tunneling (EAT).
Students were divided into clusters & houses and participated in keenly contested tournaments in various sports such as Badminton, Basketball, Volleyball, Table tennis and Cage cricket and did a cross country race as well.
Resonance 2017
NU's unique orientation programme for new students - Resonance 2017 - began on Thursday July 13th 2017. The intense but exciting and well-planned activity ended on Saturday August 05th 2017 by which time NUtons began to feel completely at home and aligned to the NU Way.
Purpose of Resonance 2017
Instill Team Spirit, Sense of Responsibility, Cooperation and Camaraderie.
Emphasis on importance of maintaining a healthy body, mind and spirit.
Results in number of positive outcomes - better grades, improved communication skills and a strong academic foundation.
Sensitizes the learners about sustainability and protection of the environment.   
To hone their skills and encourage the students to display their latent talent. 
List of Activities
Arts & Yoga
Theatre
Dance
Music
Photography & Film Making
Computer Gaming & Social Media
Debate & Elocution
Adventure
Electronics
Robotics
Sustainability
| | | |
| --- | --- | --- |
| Mr. Bhaskar Pramanik, Former Chairman, Microsoft India addressing NUtons 2017 | At the Camel's Back | Ms. & Mr. Fresher |
Resonance 2016
Resonance is a well-designed activity that makes new students feel at home and get themselves familiar with the campus as well as academics. The objectives are:
To familiarize students with the life on campus and to make the transition from school to university smooth for them.
To build connect with batch mates, seniors and faculty members.
Most importantly, helping them to take the first step towards learning how to "use your new found freedom".
To understand the value systems followed in NU system of education and internalize it.
Unique Features:
Preparatory classes in Programming concepts and practice and Mathematics concepts for courses that follow.
Intellectually Stimulating Sessions on "Puzzles for algorithms thinking".
Sessions on "Learning to Learn" enabling students to understand this learning style.
Awareness about The Asian Lenses Forum (TALF).
Interaction with Alumni through Panel Discussion.
Microsoft Innovation Centre Activities
Interaction with eminent personalities from different walks of life through Invited Talks.
Science Quiz
Opportunity to cultivate a hobby of choice
List of Co-curricular Activities
Arts Club: The Art Club is a place for aspiring artists to hone their skills, develop their techniques and portfolios, collaborate with other artists like themselves, create bonds with the community through the arts, and learn how to work together.
Dance club: The students were taught basic choreographic elements and tools. The purpose of the workshop is to help them create on their own dance sequence and to be able to express themselves through body movement. The workshop culminates in a dance competition on the last day.
Debate club: Students encouraged to identify and express opposing viewpoints on current relevant societal topics.
Electronics club: High Frequency Radio Communication was discovered by electronics enthusiasts. The club enthused students to make a few discoveries of your own.
Music club: Entertainment is free and features the musical group A Little Bit of Heaven. Students were taught basics of singing and also playing instruments like Guitar, Drums etc.
MIC Club: Demonstration and enrolment in various Microsoft portals like Dreamspark, MVA, bizspark etc. Technical training on topics like HTML, C#. Introduction to Game development, Innovative product idea competition.
Photography & Video making club: Students given exposure to use DSLR camera for photography and video recording. They were also trained Photoshop and movie making tools for enhancing the quality of captured photo/video.
Theatre club: Theatre is a team activity. The team was given a theme randomly and then they had to write the script on the given theme and plot the characters. The team rehearsed and presented the plays.
List of Outdoor Activities
Sport: All clusters participated in various sports like volleyball, table-tennis, basketball, cricket etc.
Sustainability: It's a great way to get students energized about taking care of the Earth and helping their society while learning about some of the most important issues facing the world in the 21st century.
Adventure: Adventure sports are a great way to build confidence and leadership. Activities such as trekking and valley crossing were organized.
List of a few Invited Speakers
Mr. Harpal Singh, Chairman, Nanhi Chhaan Foundation (also Mentor & Chairman Emeritus, Fortis Healthcare Limited)
Mr. Keshav R Murugesh, Group CEO, WNS Global Services
Mr. Rahul Patwardhan, CEO NIIT
Ms. Syeda Imam, Former member of the National Commission for Minorities, India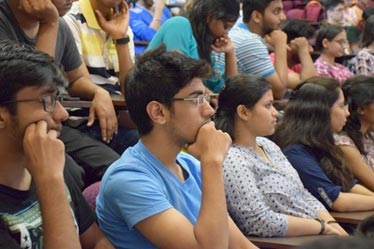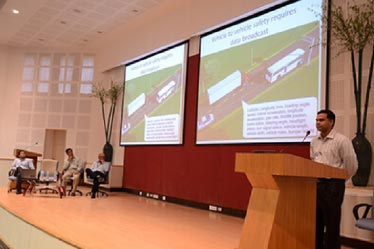 Picture Gallery: