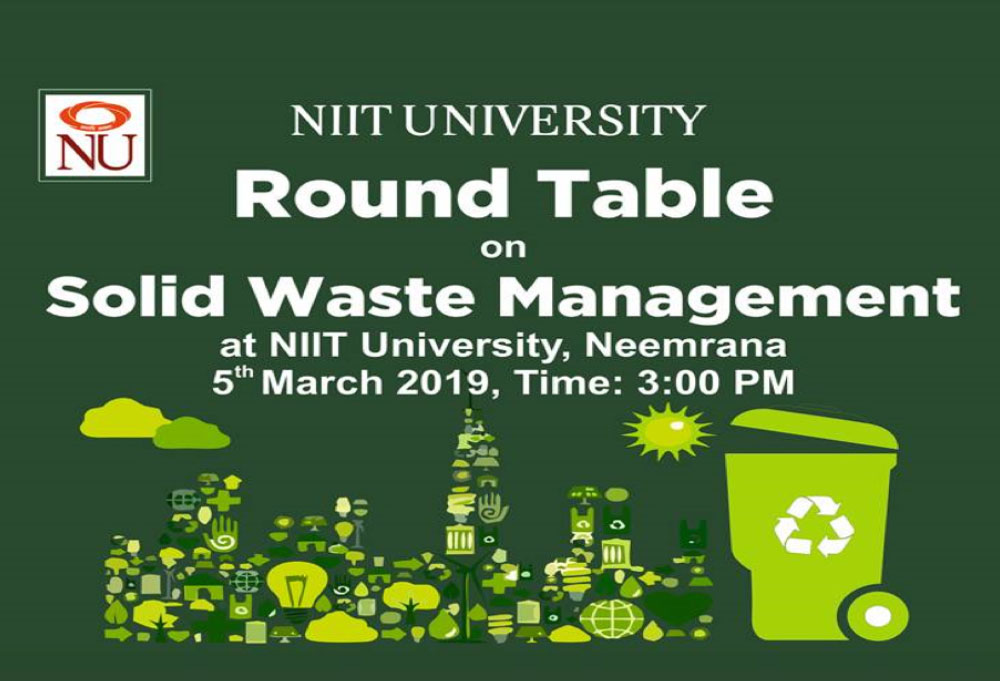 A 'Round Table' on Solid Waste Management in Neemrana was conducted under the aegis of NIIT University (under Activity Oriented Courses, AOC 171 Swachh Bharat) on 05 March 2019 at 3:00 PM, in Senate Room, NIIT University, Neemrana. Attendance: The event was Presided over by Prof V S Rao, President, NIIT University. Delegates were well represented by members from RIICI, Local Civil Administration, Neemrana Industries Association, faculty, staff and students of NU.
Proceedings
Welcome address by Prof. V. S. Rao, President, NIIT University, Neemrana:
While addressing the gathering, the President Prof. V. S. Rao emphasized on the role of NIIT University in spreading awareness about the environment, maintaining sustainable environment and educating people by creating examples of environmental sustainability. He also requested members from the industry, Residential society, students, teachers, & traders of Neemrana to collectively join hands in finding a sustainable solution to this major problem of solid waste management.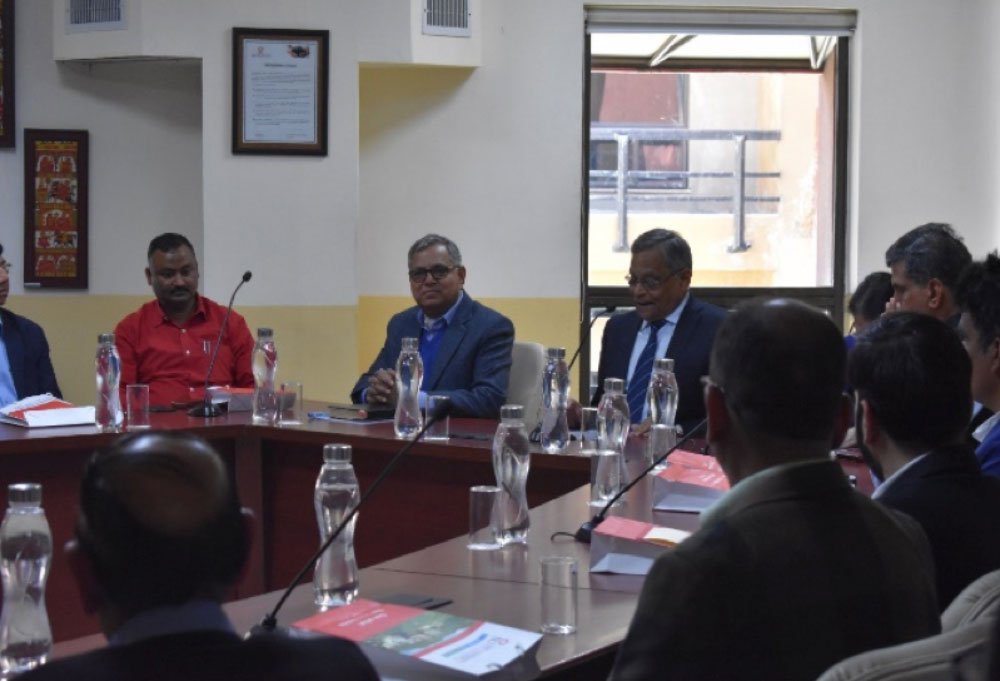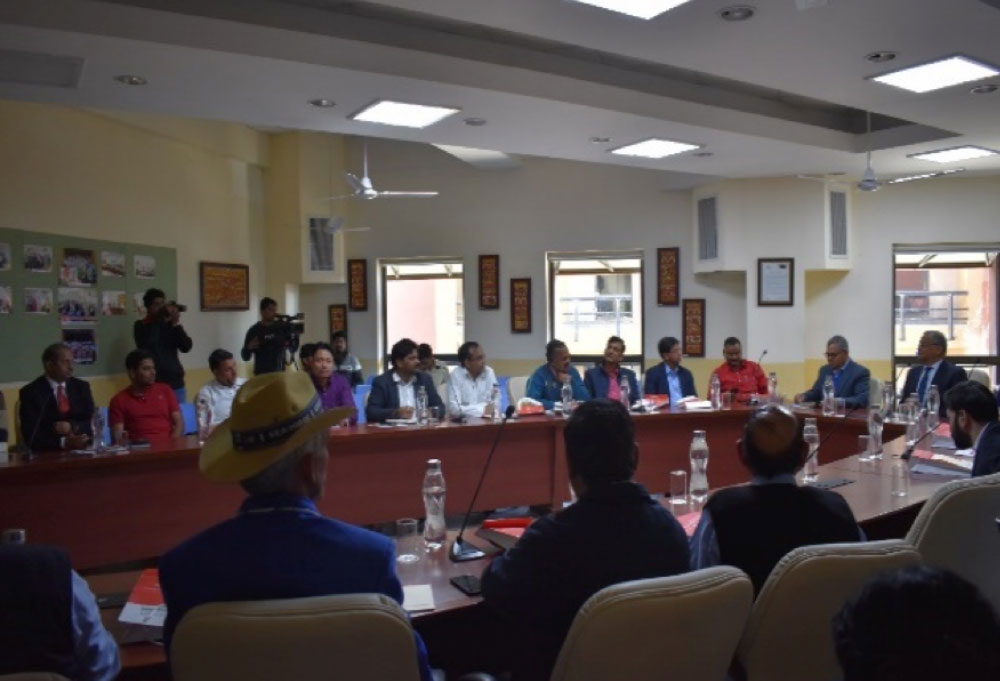 Preamble by Maj Gen A K Singh (Retd.), COO & Dean Students Affairs, NIIT University, Neemrana:
Maj Gen A K Singh (Retd), COO & Dean Students Affairs, NIIT University, set the preamble of the Round Table by bringing out the changes in the environment of Neemrana is last 10 years (2009-2019). He also highlighted the contribution NIIT University in resurrecting the environment impressed upon the urgent need of finding immediate solution to pollution in Neemrana. He urged all delegates that this mission is possible only if all stake holders extend their wholehearted support in a collaborative manner. He also intimated that RIICO has earmarked a piece of land at the new Industrial Area (Kolila Joga) for Solid Waste Management. Creation of a SPV (Special purpose Vehicle) for taking the project forward was also indicated by him.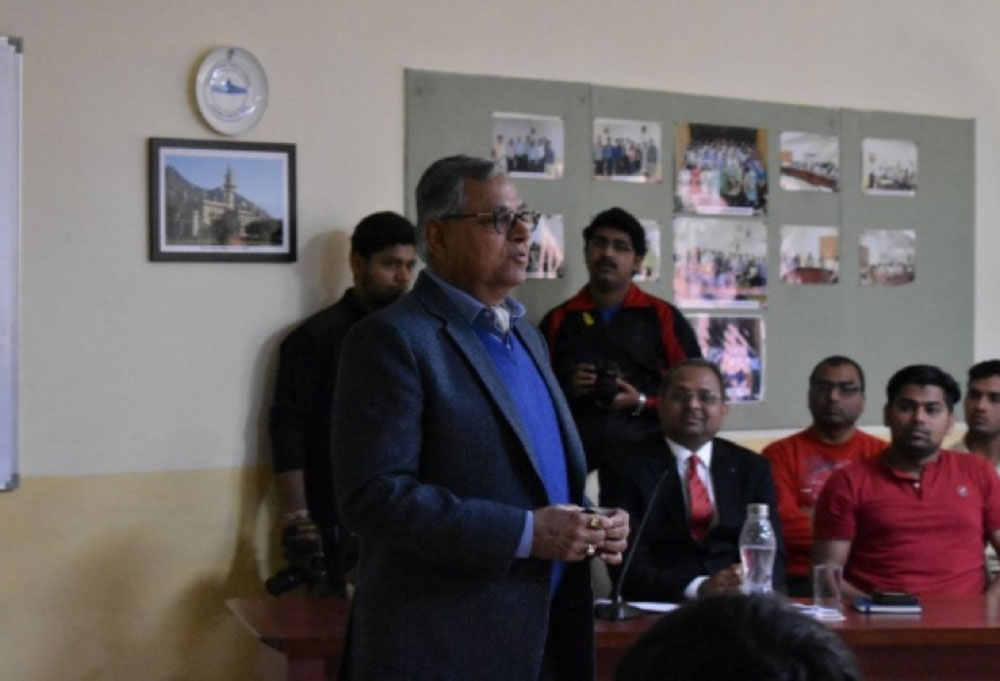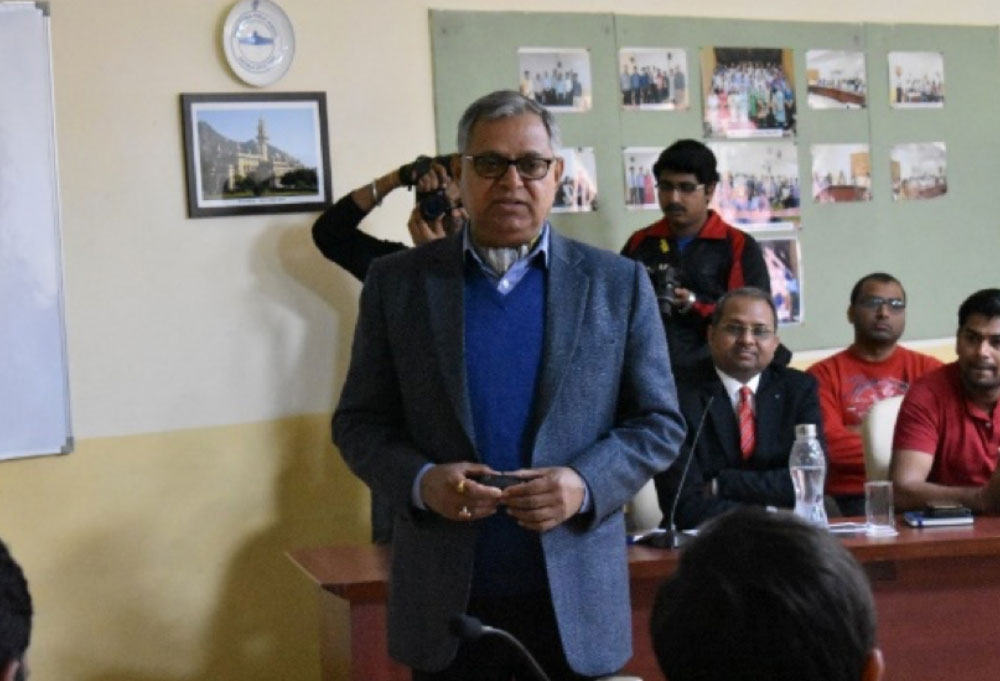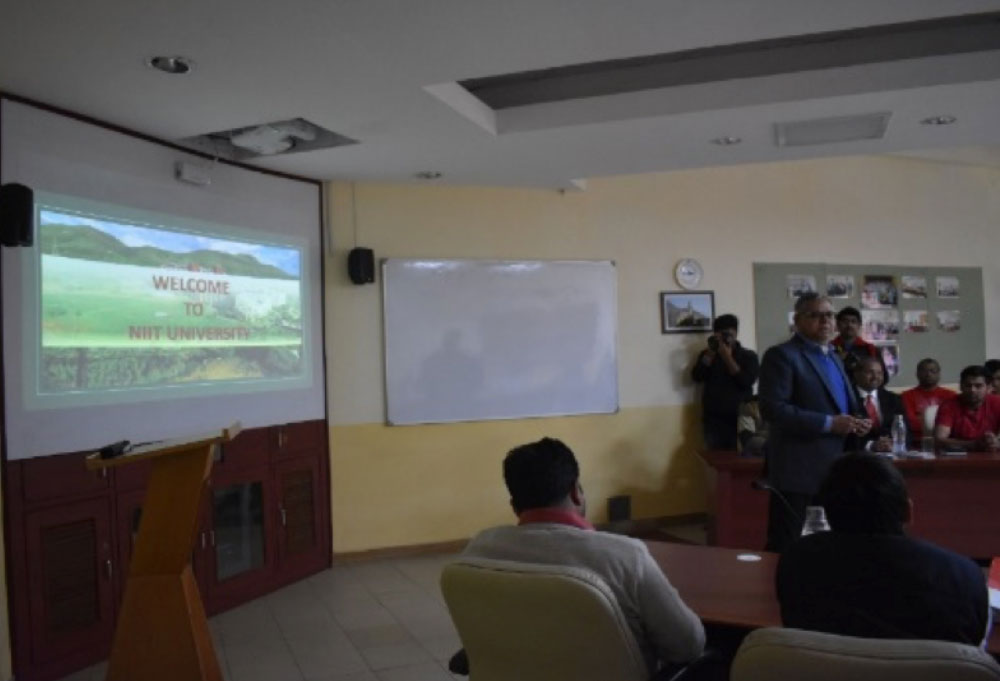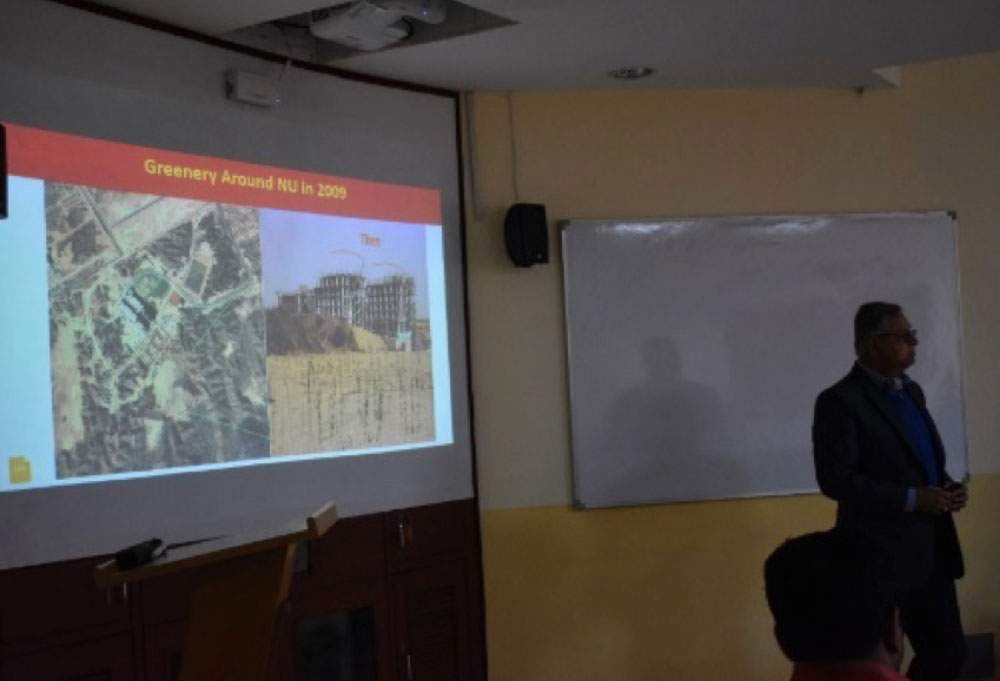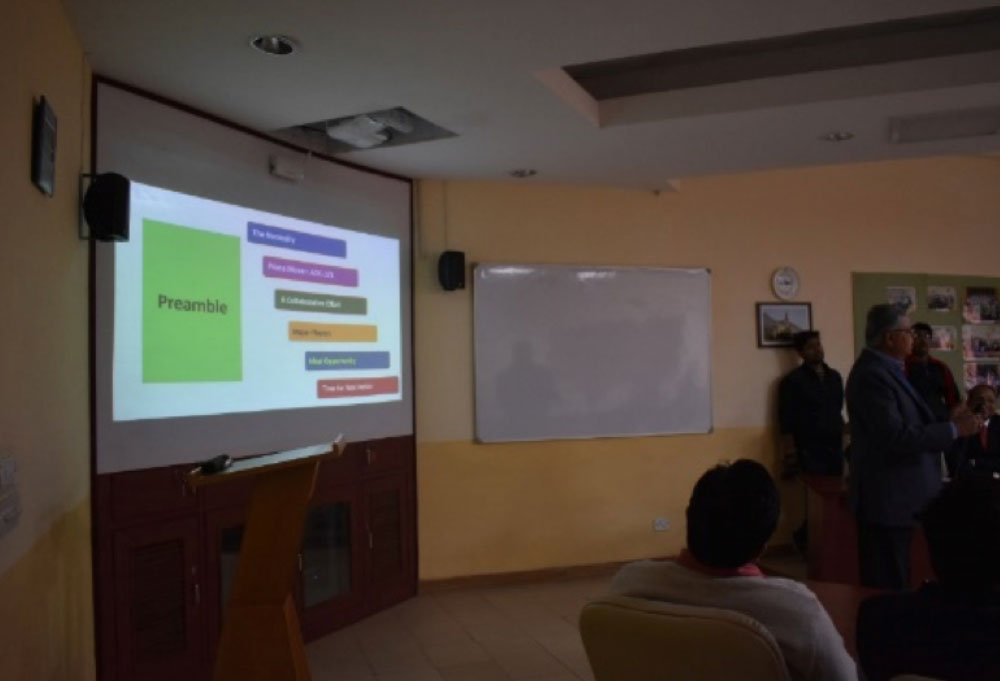 Presentation on Waste Management and Role of NU by Dr. Gurendra Nath Bhardwaj, Professor of Economics & Team
Dr. Gurendra Nath Bhardwaj explained to the delegates, how NU family promoted the concept of Swachh Bharat with the support of students, faculty and staff as well as how did they spread it outside the boundaries of University. Four types of projects for recycling related to Food, Paper, Plastic waste and Bio fuel have been promoted by NU in the community in and around NU Campus. Efforts made by faculty and students of NU included awareness visits among farmers (consumers of bi-products), residential societies (waste generators as well as consumers), Poster Making Competition & Exhibition, visit to HUDA Nursery Faridabad, visit to Machine Manufacturing Industry and many more. The university runs a course on Swachh Bharat, where the students are graded not for active participation and working for the society. He also introduced the team of students which included 5 students working in AOC 171 (Swachh Bharat) and 5 students Working for Economic Analysis of recycling projects under R & D NU 302. The team of students, faculty and staff had worked relentlessly for the event which included various steps to be taken for management of Solid Waste at Neemrana, including tentative calculation of Capital and operating revenue and expenditure in order to make the Project economically self-sustaining.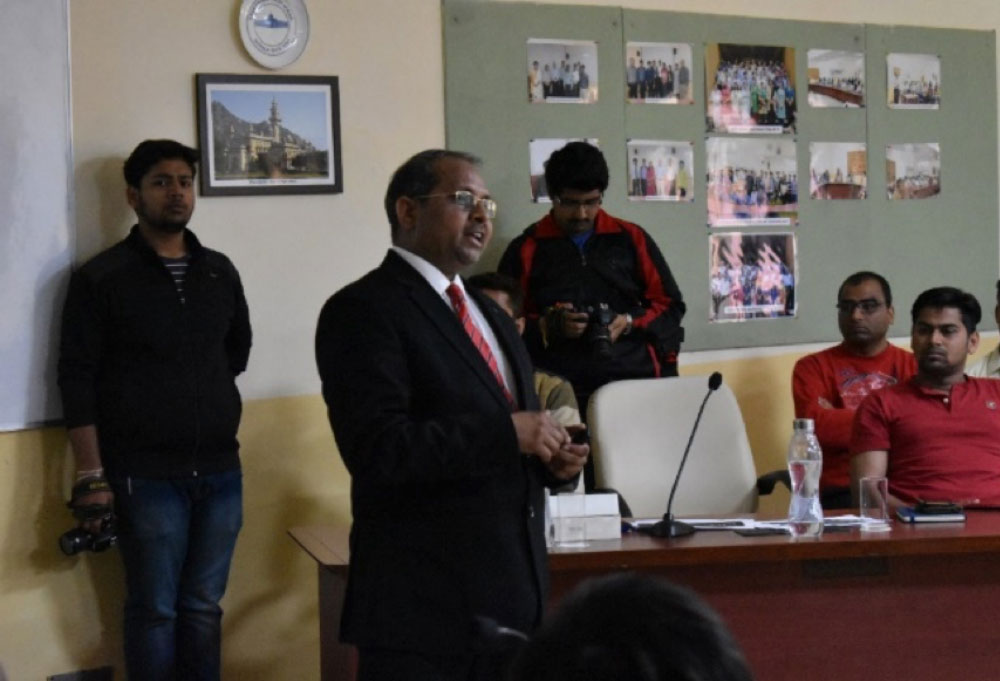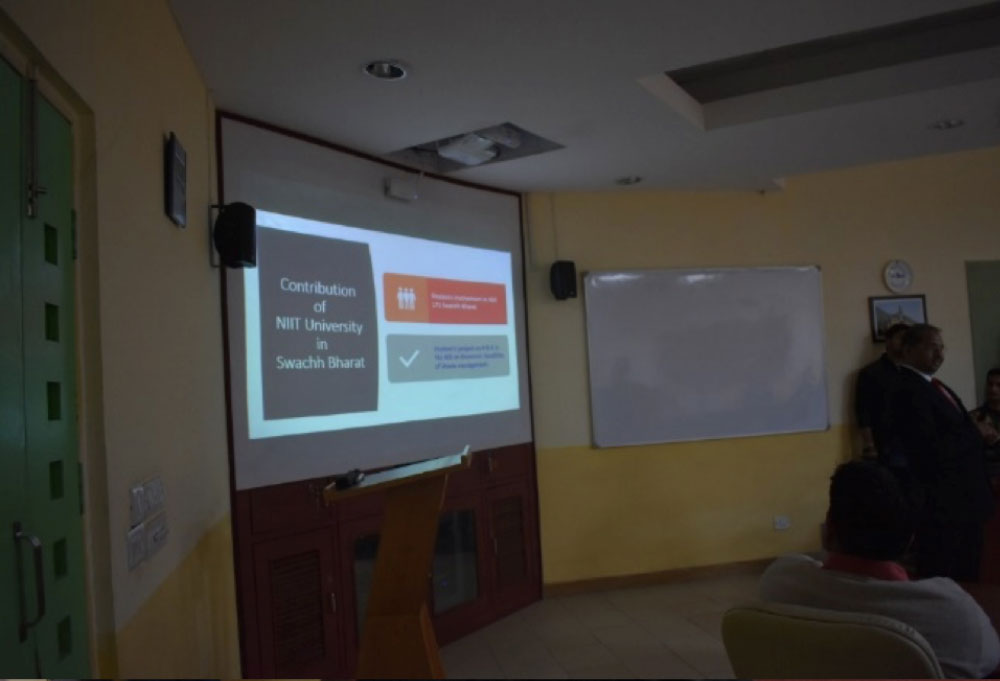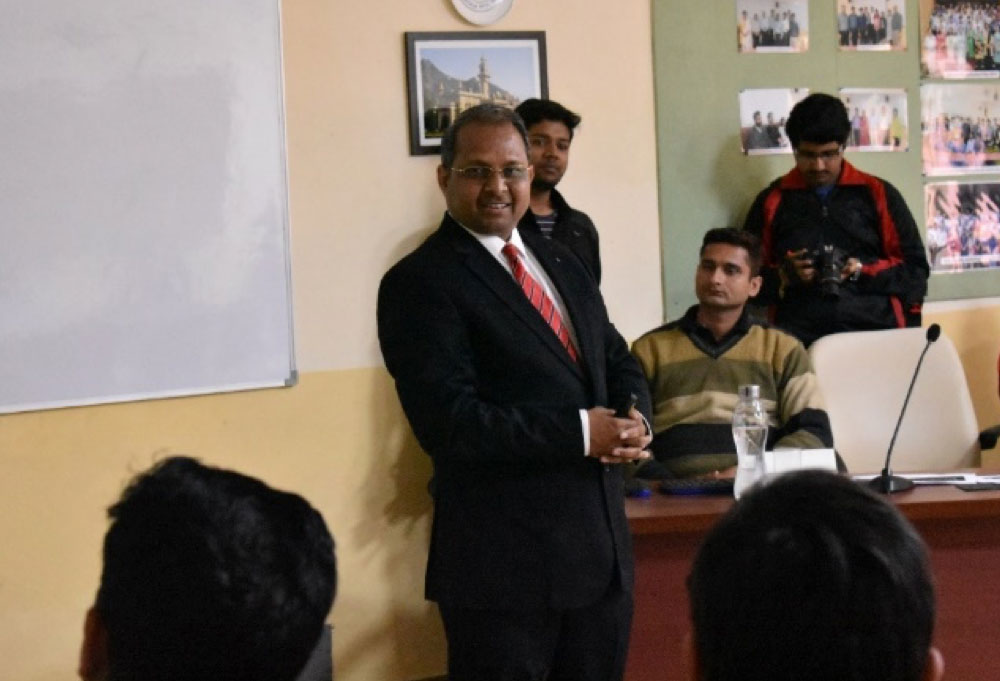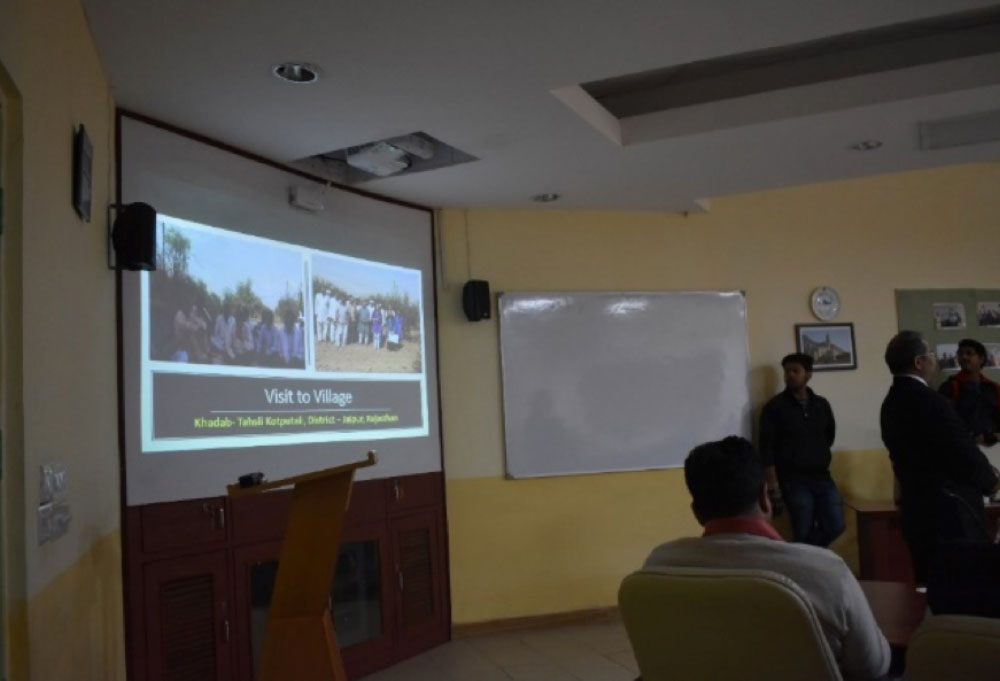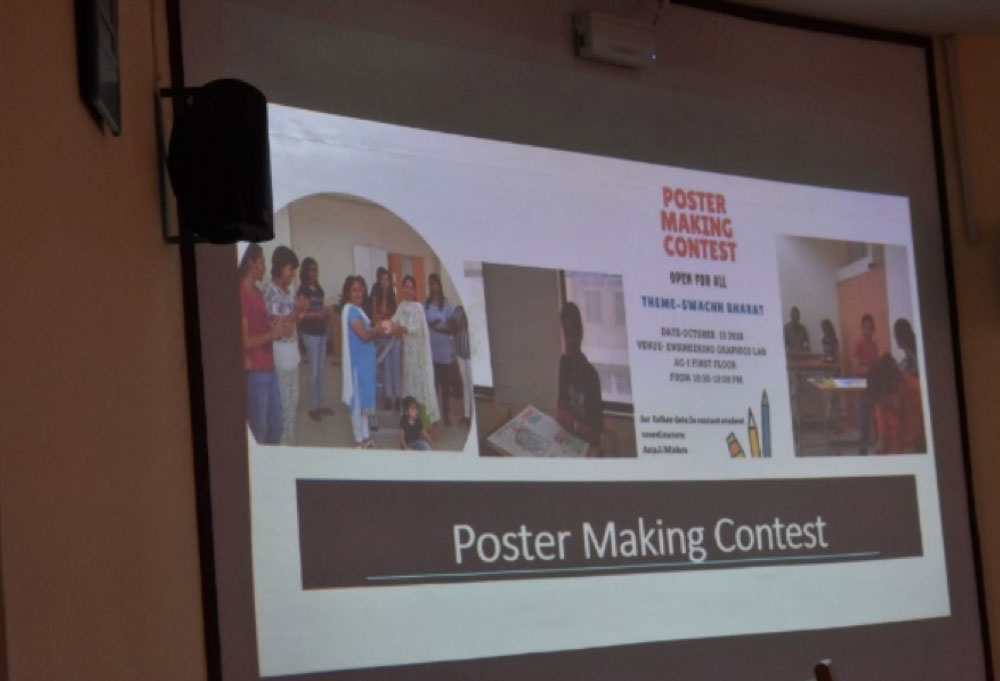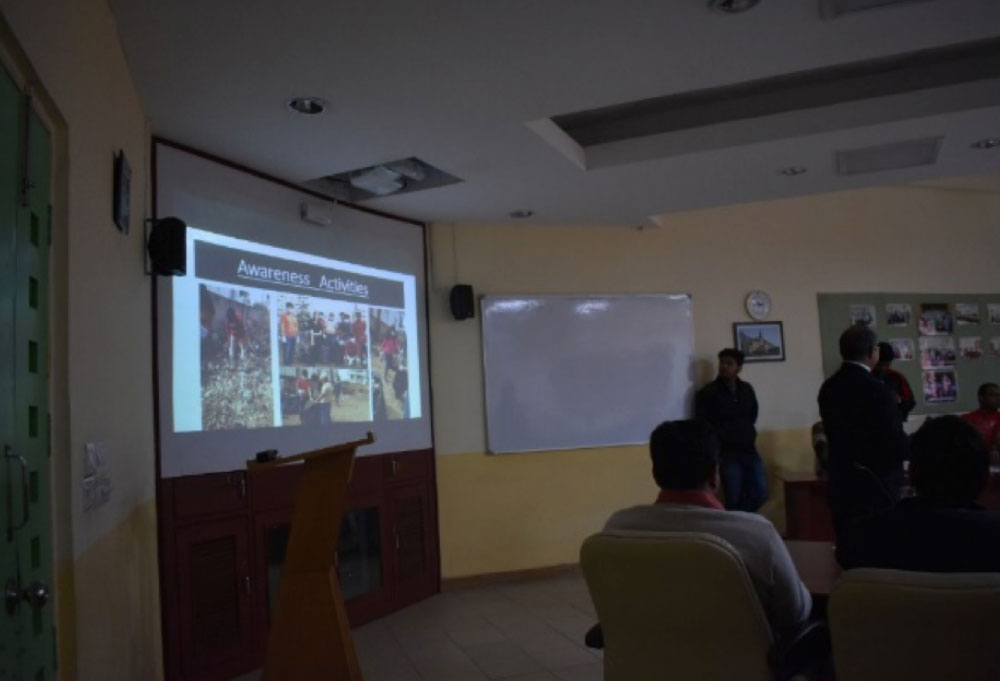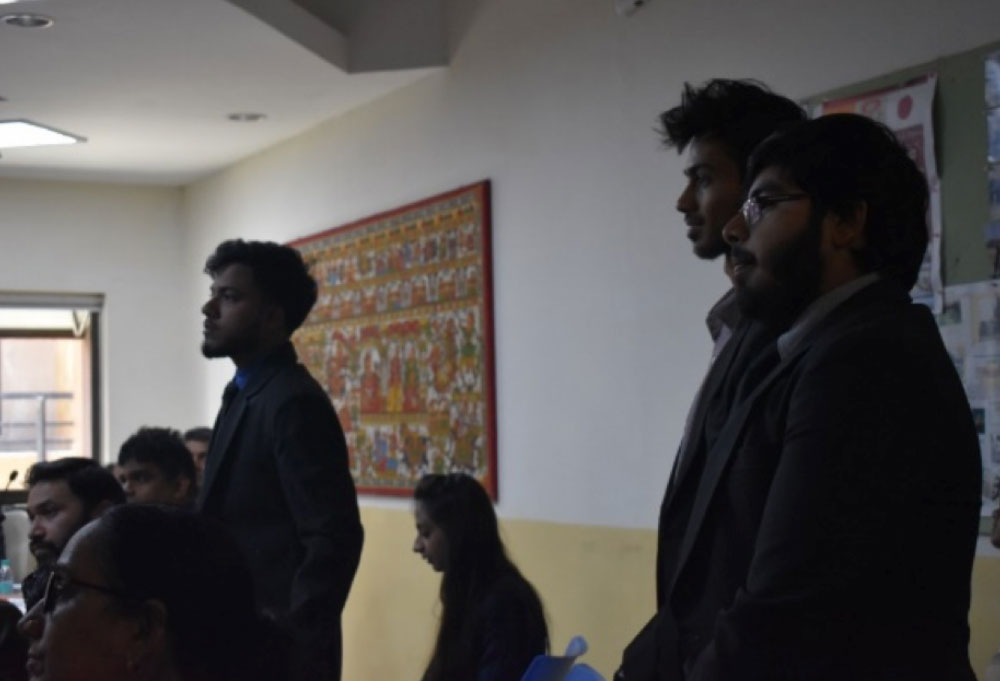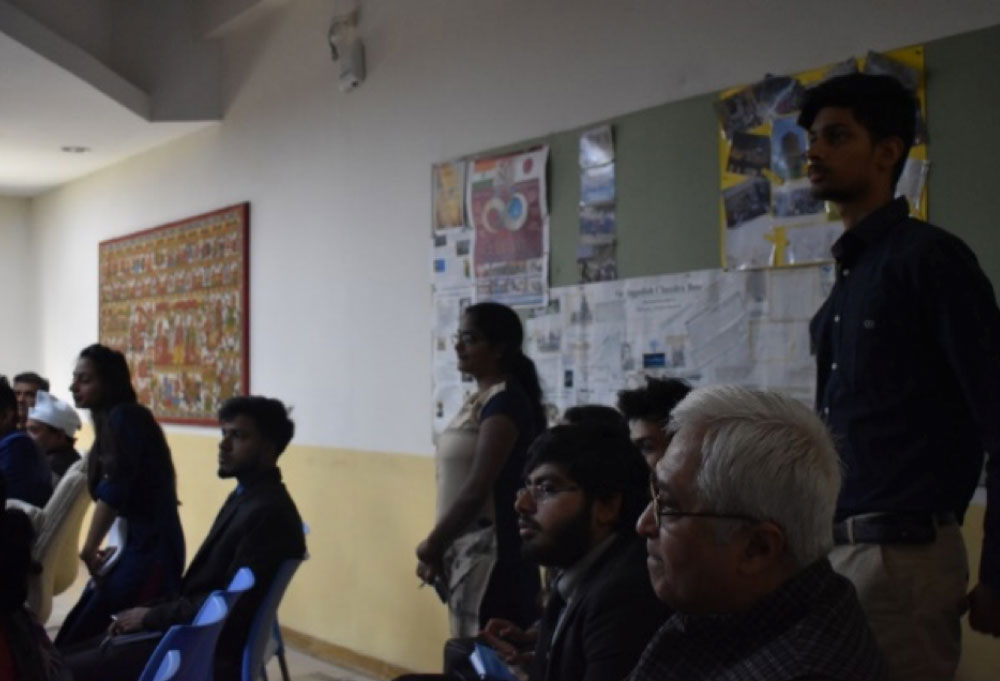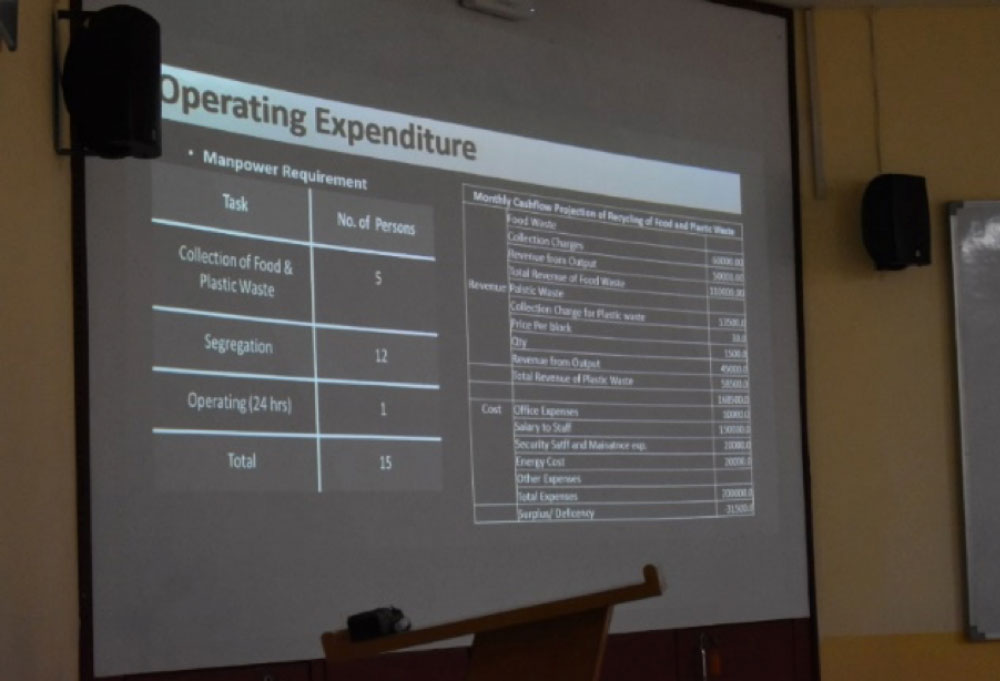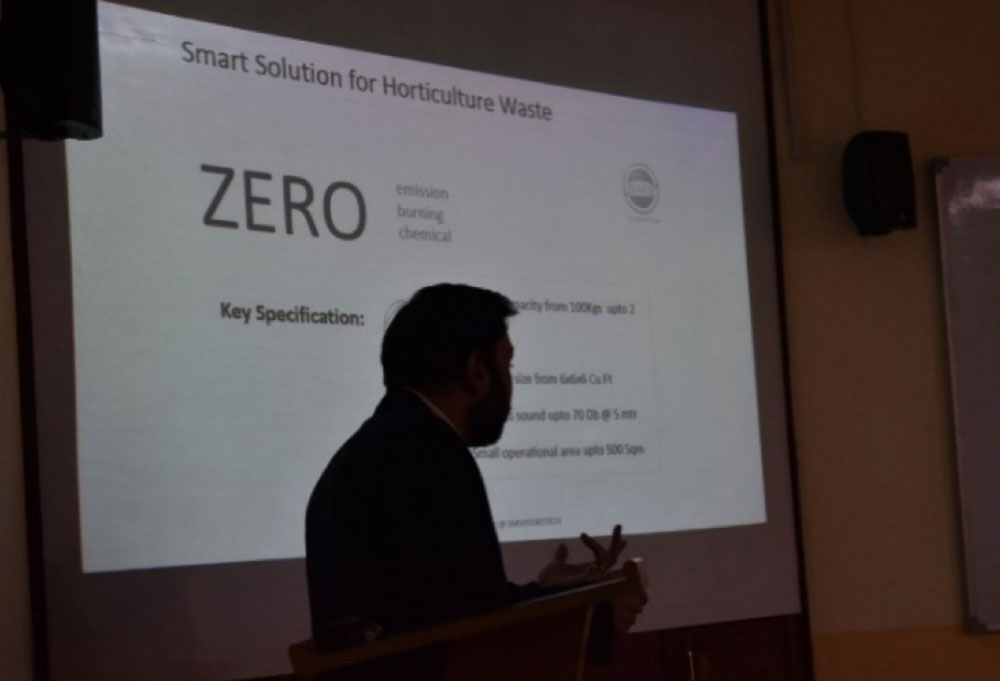 Presentation on Waste Management Machines by Mr. Surya Vikram Singh SMS Hydrotech Pvt. Ltd. Faridabad:
Mr. Suraya Vikram Singh made an elaborated presentation on capacity and capability of various machine manufactured by them for processing and recycling of food waste, paper waste & plastic waste. He answered queries of delegates regarding cost of machines, licensing, installation expenses, operating expenses, suitability of machines based on the requirement of single client of residential societies, industries and government organisations.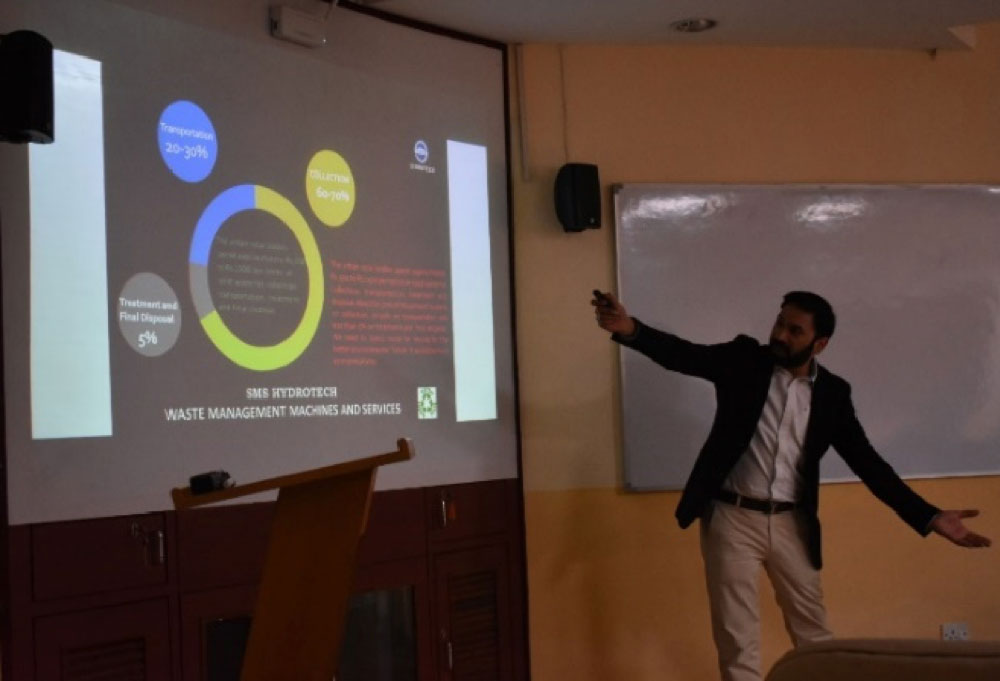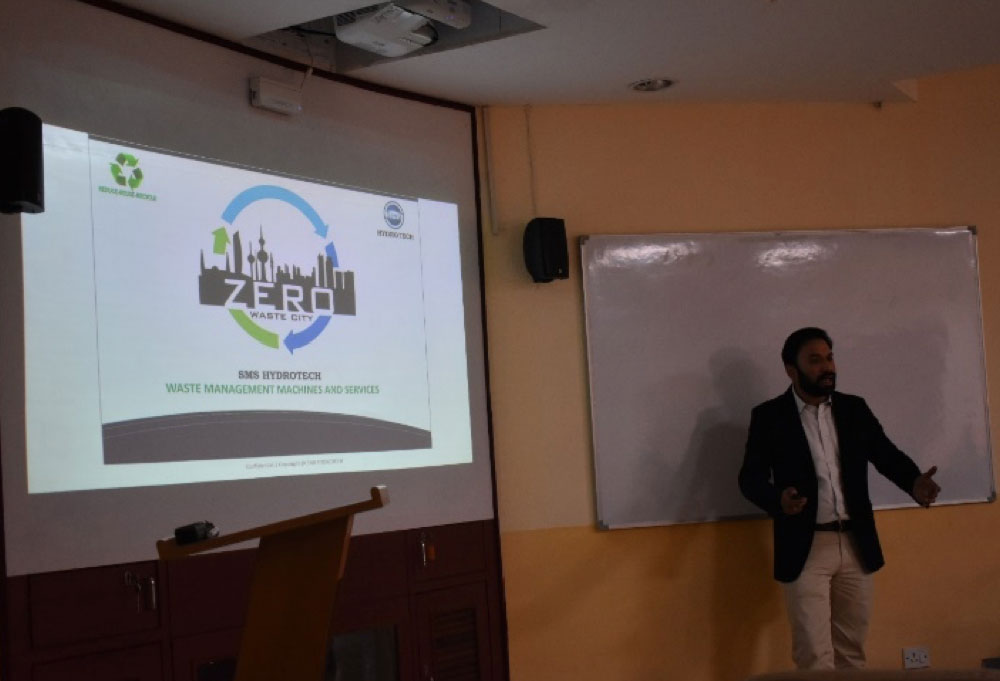 Open Discussion by Delegates: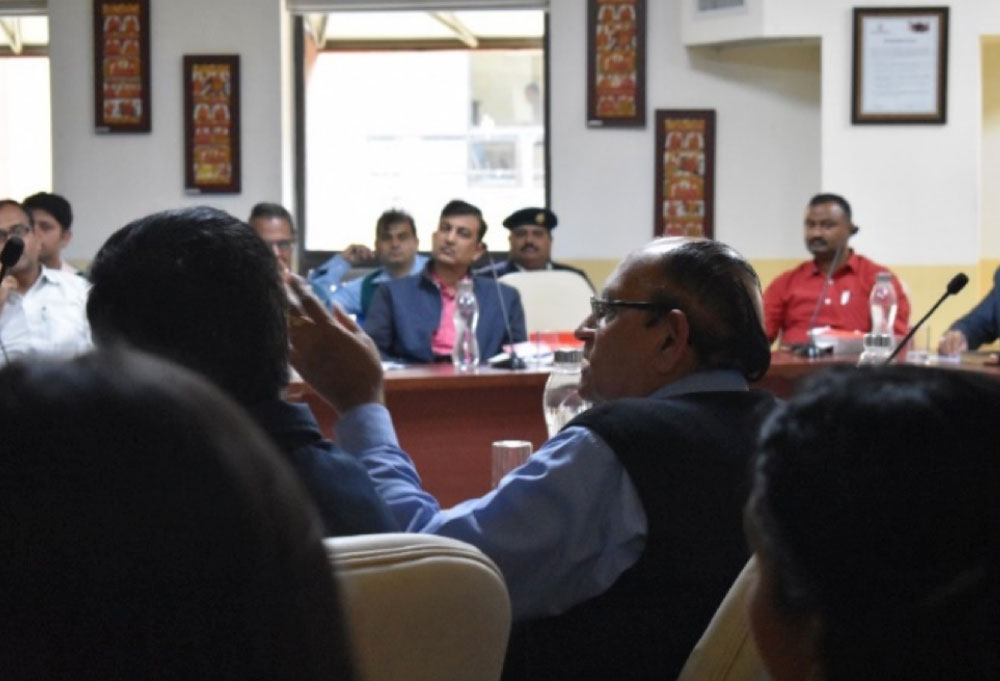 A very focused and meaningful Open Discussion session was held after the presentations. Following constructive suggestions were received:
As a first step a vigorous "Awareness Campaign" for collection and segregation should be started collectively in Neemrana to sensitize the public, in March & April. Campaign material will be prepared by NU and disseminated to all industries, housing societies and schools.
Creation of a Special Purpose Vehicle (SPV) in order to plan, organise, execute and speed up the Project at Neemrana. It will consist of members from RIICO, Civil Administration, NIA, Housing Societies, Hospitals and NU. All the stakeholders confirmed their full support in executing this Project.
The Team of NU GIS will help in networking different destination by using GIS techniques.
Respective industries and housing societies were requested to preferably set up suitable machines for food and horticulture waste at respective locations for obtaining compost as a bi-product, which can be utilized within the campus.
It was suggested by the President that University can submit the research proposal to UGC and other government organisation for funding on research of this topics, where NU can contribute significantly by involving the students and faculty in proving cost effective solution the society at large.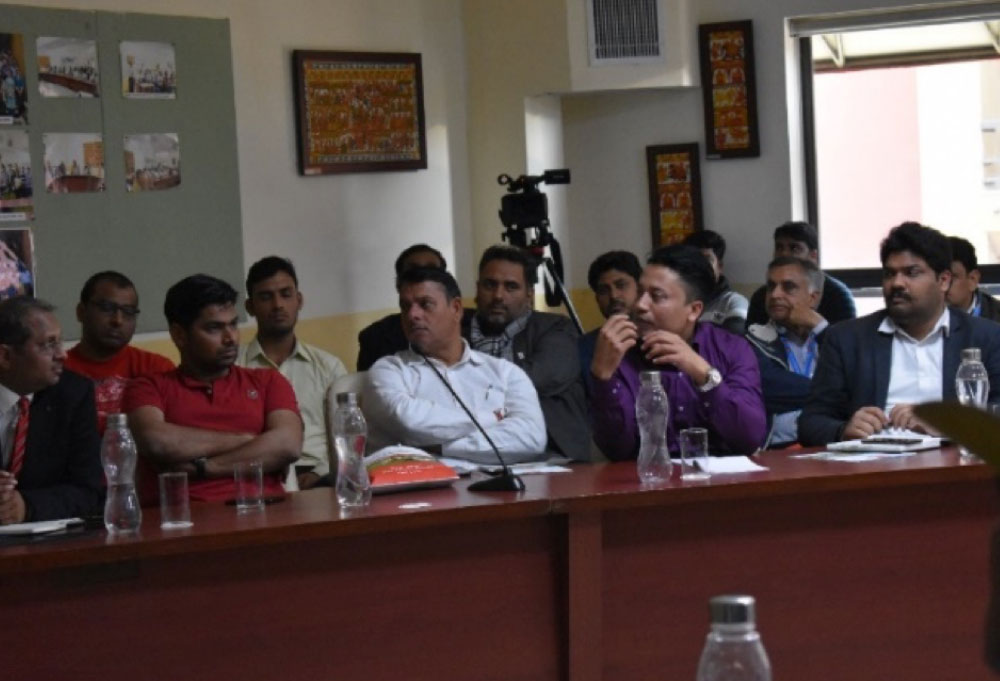 Honouring Mr. Jayant Sawant:
It was learnt that Mr. Jayant Sawant, a contractor by profession residing in RICCO society Neemrana, has selflessly dedicated himself for cleaning in the RIICO Society Complex. He has been carrying on this noble mission of cleanliness in the Society on his own with utmost dedication and self-motivation for many years without expecting any kind of compensation. His passion about this act has been published by many newspapers. This Round Table thought it appropriate to honour a person with such noble mission on this occasion. The President NU along with Dean Academics and Dean Student Affairs honoured Mr Sawant by offering him a shawl.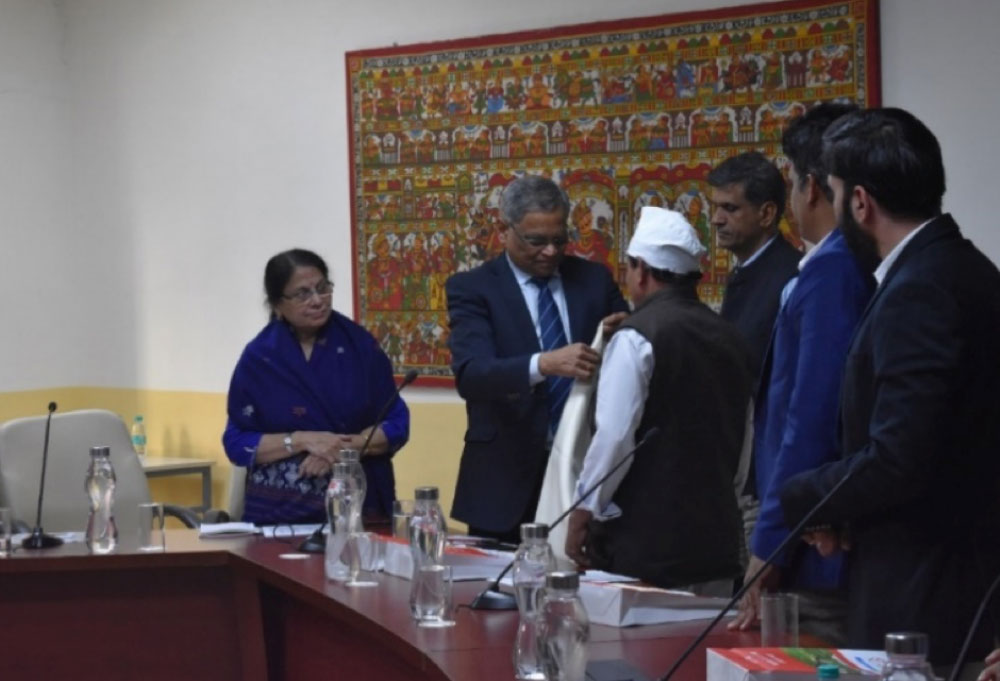 Vote of Thanks:
Dr. Parimal V Mandke, Dean Academics and Vice President, NU offered the Vote of Thanks. She mentioned that it was a Historic Day for NU, where such a diversified population of the society of Neemrana have gathered at NU to solve the problem of pollution by recycling waste, which will benefit every section of the society at Neemrana. She thanked all Delegates for sparing their valuable time and in joining hands in finding an appropriate solution to this major problem.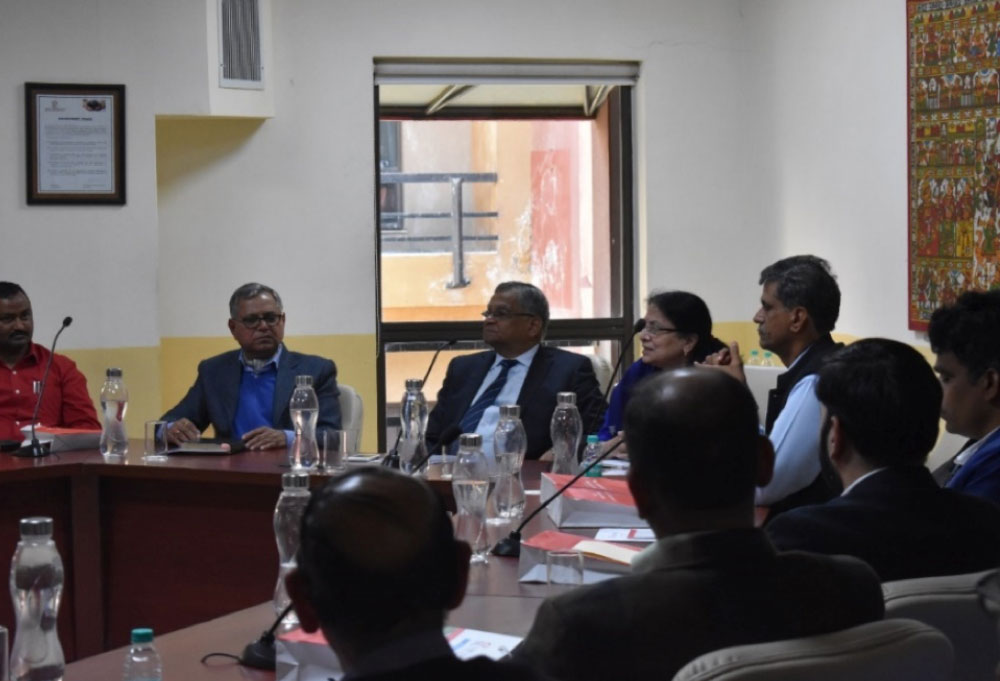 The Round Table concluded with a Group Photograph and refreshments.