Sumili Dey (Final Year B.Tech Biotech) has received the Certificate of Honour for the Best Paper Presenter for her paper titled 'Identification of novel dysregulated genes in ovarian cancer using NGS Data Analysis' in the 7th International Conference on Research in Life-Sciences & Healthcare (ICRLSH) held at Kuala Lumpur, Malaysia in June 2019.
She and another NU student, Riddhi Modi, carried out the research work as part of the R&D project course at NIIT University under Dr. Utkarsh Raj, Biotechnology & Bioinformatics Area.
Congratulations to Ms. Sumili Dey on her achievement!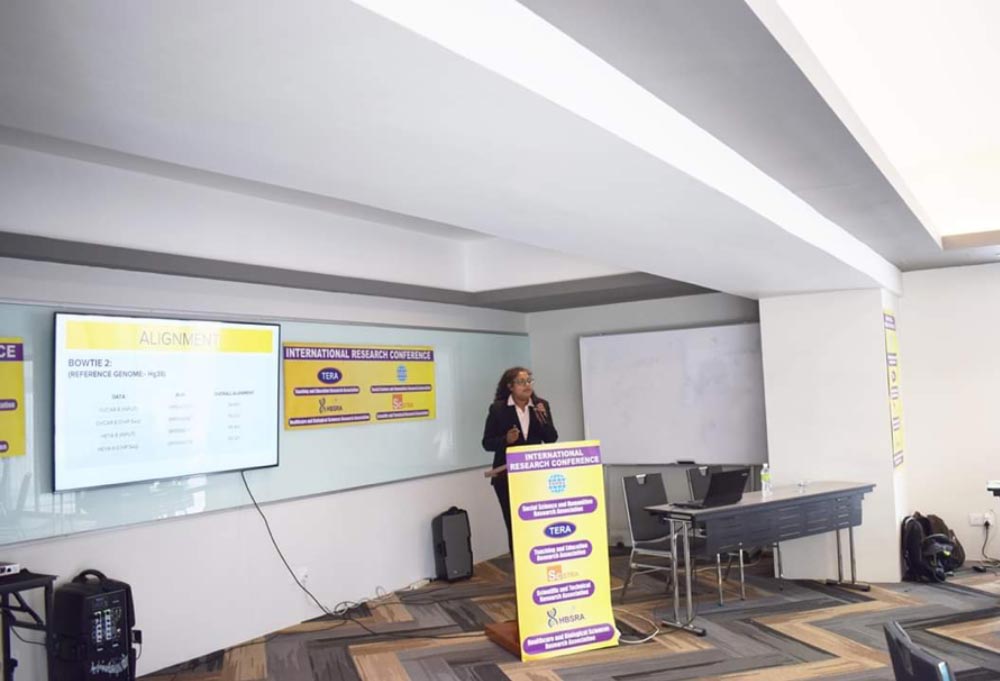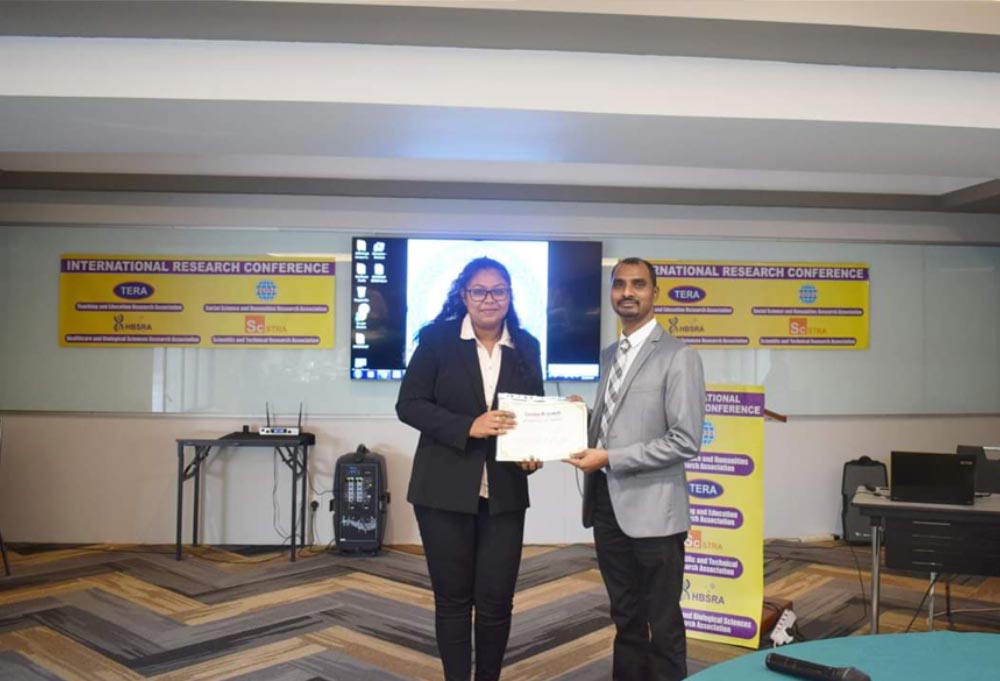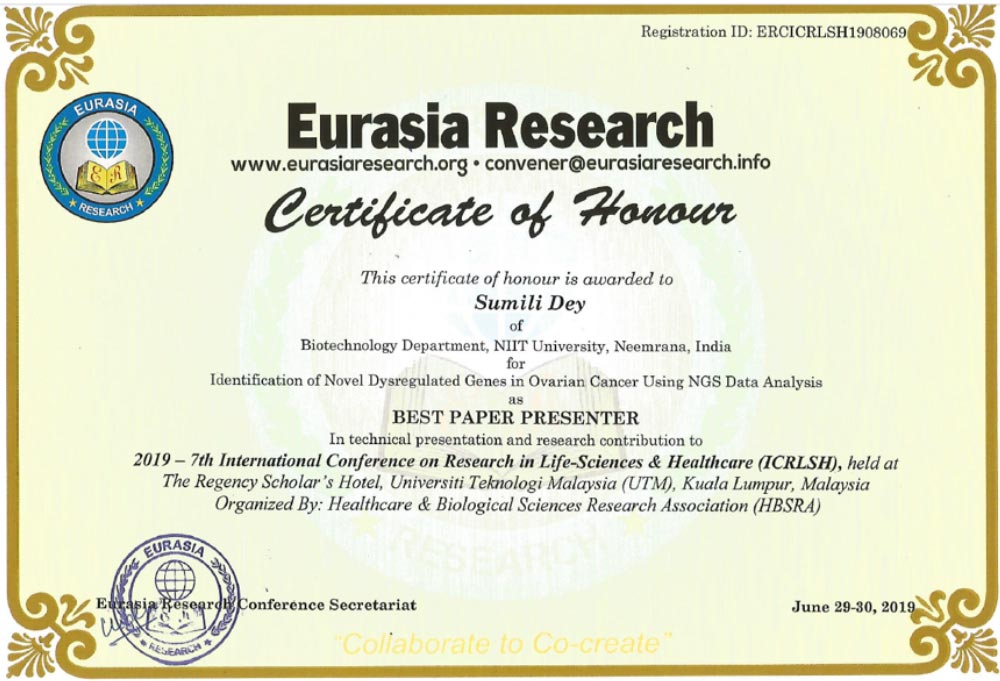 Given below are the links to the conference details as well as the paper abstract.

https://eurasiaresearchcon.wixsite.com/eurasiaresearch/blog/eurasia-research-international-conference-held-at-kuala-lumpur-june-2019-1
https://hbsra.org/wp-content/uploads/2019/06/HBSRA-International-Conference-Kuala-Lumpur-June-2019.pdf
Identification of novel dysregulated genes in ovarian cancer using NGS Data Analysis
Sumili Dey, Riddhi Modi, Utkarsh Raj
Abstract
Ovarian Cancer ranks as the seventh most common cause of death, globally, and has emerged as one of most common malignancies affecting women. Research and knowledge at the transcriptional level is required for the betterment of its evolving therapy. Our study is based on the Next Generation Sequencing, which, over the last decade, has emerged as the most powerful tool of sequencing strategies. It has been identified that ETS1 is the most up-regulated member in the ETS family of Transcription Factors in the metastasis of OC cells and an increased expression of ETS1 has been observed in OC tumours. In this study, we carried out the ChIP Seq Data Analysis for two such OC cell lines (OVCAR8 and HEYA8) that contains transcriptional targets of ETS1. The identification of differential peaks on these cell lines were conducted on the basis of fold change and the peak annotation was carried out. BioGRID laid the platform for protein-protein interaction network analysis, and construction, by Cytoscape. Then, from the constructed network, highly connected genes were screened. Finally, a number of key genes had been identified, which is related to Ovarian Cancer. Many of these genes are present in the intergenic chromosomal regions and have differential peaks. These genes may help in the better understanding of the ovarian cancer and may serve as pioneer for future research. Effective therapies are yet to be developed for ovarian cancer and for that, future research needs to be conducted in order to define the roles of these genes in details.