NIIT UNIVERSITY 7th CONVOCATION, 16th September 2017
'I' in India should stand for Innovation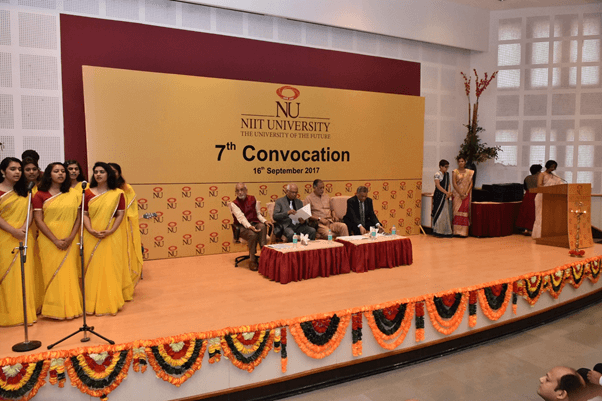 The 7th Convocation Ceremony was held at NIIT University on 16th September 2017. 334 students graduated in all of whom 213 were B.Tech, 13 M.Tech, 62 MBA (Finance & Banking) and 45 PG Diploma (Banking & Relationship Management). The University also granted its first PhD Degree from the Educational Technology area.
Dr. Raghunath Anant Mashelkar, an eminent Indian scientist and former Director General of the Council of Scientific and Industrial Research (CSIR) graced the occasion. Delivering the 7th Convocation Address, Dr. Mashelkar said that "India has come a long way from being a third world country to a time where we will soon be world's third largest economy". Indian innovation or "Indovation" is the key to provide excellence at affordable cost. He said that he does not support "jugaad" innovation because it is a temporary solution which does not take care of environment and many other important aspects. He said that NU should have exponential growth as it is "The University of The Future." Dr. Mashelkar's address can be viewed at: 'Watch Dr. Mashelkar's Address to Graduating Students'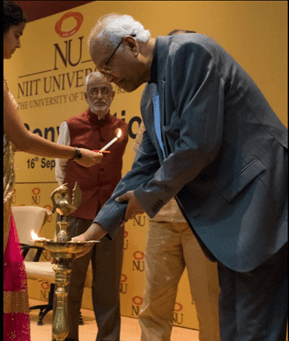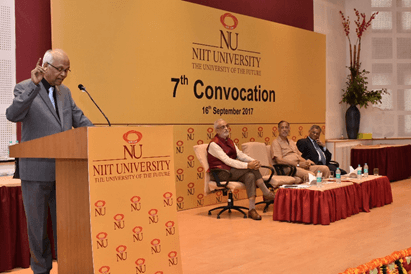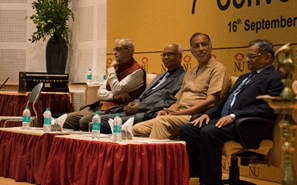 Mr. Rajendra Pawar, Founder, NIIT University, thanked parents for the faith reposited in a young university like NU and said that NU will forever remain young as to be the University of the Future we have to be in a continuous state of fruitful experimentation in education, technology and pedagogy.
Mr. Vijay Thadani, Co-Founder, NIIT University, introduced the Chief Guest, Dr. Mashelkar. Speaking on the occasion, Prof. V.S. Rao, President, NIIT University, congratulated all graduating students and said that NU will continue its journey of excellence in education.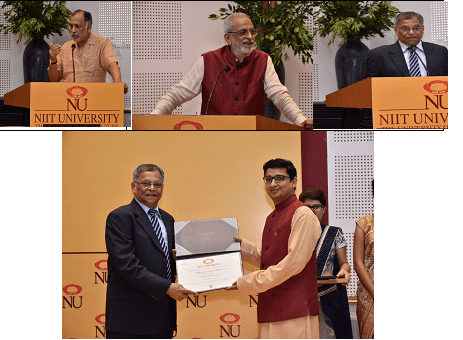 All graduating students looked resplendent in maroon & beige traditional wear. Dr. Sunil Khanna, Dean (Research) opined that choosing traditional wear in the place of the standard graduation black gowns and hats was a symbolic gesture of leaving the old behind and moving. It is in keeping with the values of TALF – The Asian Lenses Forum, wherein we are now looking at the world through a different lens.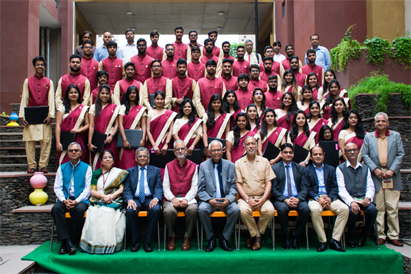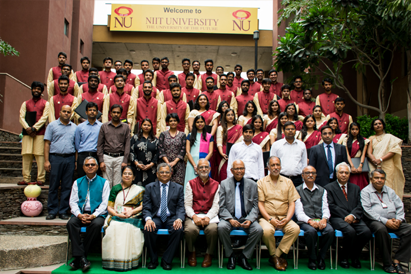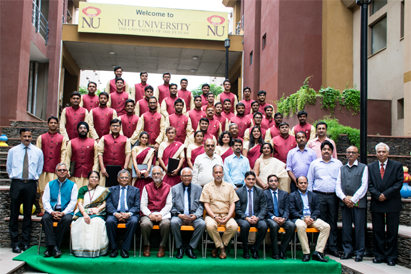 Graduating students left messages for their juniors on the 'Memory Wall' created for this occasion. The Convocation Selfie Station saw new graduates getting themselves photographed. The photographs were printed and presented to them in custom NU photo frames. Proud parents of graduating students and other eminent guests also graced the occasion.
Distinguished Medal Winners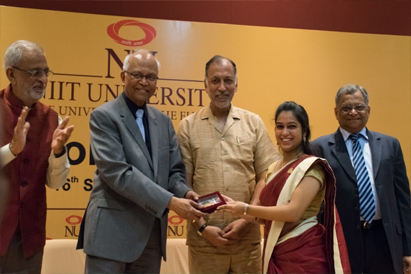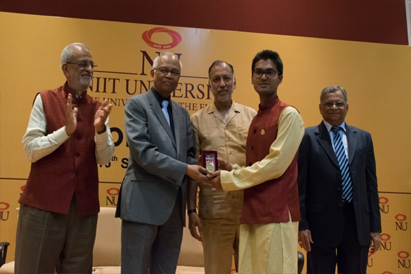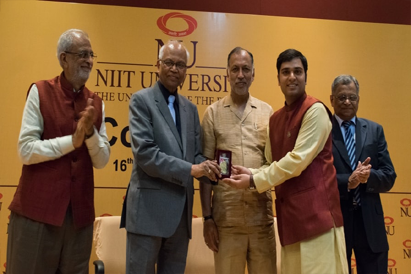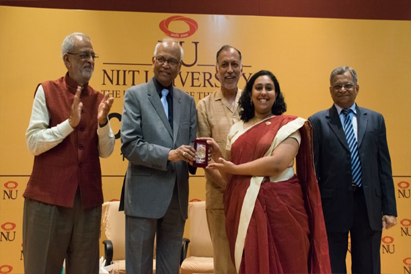 Dr. Karan Singh Gold Medal-2017

S.No.

Name

Batch

Stream

1

Shreya Mahabala Alva

B.Tech. 2013

Computer Science and Engineering

2

Pattan Imran Khan

M.Tech. GIS 2015

Geographic Information Systems

3

Anoop Kumar Sharma

MBA Oct.2014

Finance & Banking

4

Chavan Sneha Vijay

M.Tech. ET 2015

Educational Technology

Ram Rajindra Malhotra Medal-2017

1

Divya Sara Kurian

B.Tech. 2013

Computer Science and Engineering
Some Glimpses