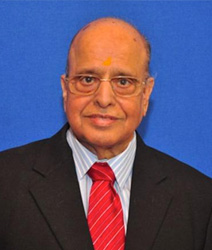 Dr K. Kasturirangan, Chairperson
Dr K. Kasturirangan is currently Chairman, Inter-University Centre for Astronomy and Astrophysics (IUCAA), Chancellor, Central University of Rajasthan, Chairman, Public Affairs Centre, Bangalore, Member, Atomic Energy Commission, an Emeritus Professor at the National Institute of Advanced Studies (NIAS), Bangalore, and Honorary Distinguished Advisor, Indian Space Research Organisation (ISRO). Earlier, as Chairman of ISRO, he oversaw the space programme of India between the years 1994 and 2003. He was a Member, Upper House of the Indian Parliament (2003-2009) and concurrently the Director of NIAS, Bangalore and subsequently, Member of the erstwhile Planning Commission. Dr Kasturirangan was also the Chairman of the Committee entrusted with drafting the new National Education Policy (July 2017-December 2018). Dr Kasturirangan completed his Bachelor of Science with Honours and Master of Science in Physics from Bombay University and received his Doctorate in Experimental High Energy Astronomy in 1971 while working at the Physical Research Laboratory, Ahmedabad. His interests include astrophysics, space science and technology as well as science related policies.
Dr. Kasturirangan is a Member of several International and National Science Academies. He is a Fellow of Indian Academy of Sciences and served as its President during 2001-03. He is Fellow of Indian National Academy of Engineering and was its President during 2005-06. He was also General President of the Indian Science Congress for the years 2002-2003. Besides, he is the Fellow of the Indian National Science Academy and the National Academy of Sciences of India. Dr. Kasturirangan is the only Indian to be conferred the Honorary Membership of the International Academy of Astronautics and having served as its Vice President earlier. He is a Member of the International Astronomical Union and a Fellow of The World Academy of Sciences (TWAS). He is the Honorary Fellow of the Cardiff University, UK and Academician of the Pontifical Academy of Sciences, Vatican City.
He has won several awards including Brock Medal of International Society of Photogrammetry and Remote Sensing, (2004), Allan D Emil Memorial Award of the International Astronautical Federation (2004), Theodore Von Karman Award by International Academy of Astronautics (2007), Shanti Swarup Bhatnagar Award in Engineering, Aryabhata Award 2003 of Astronautical Society of India, Lifetime Achievement Award of Asia-Pacific Satellite communications Council, Singapore, Aryabhata Medal by Indian National Science Academy (2000), Asutosh Mookerjee Memorial Award by the Indian Science Congress, Award of Jewel of Ruia, Ruia College Alumni Association, 2007; Maharana Udai Singh Award 2007-08 by Maharana of Mewar Charitable Foundation, Udaipur, 2008; Rajayogindra Award, Maharaja of Mysore (2008); Vikram Sarabhai Memorial Gold Medal, Indian Science Congress (2009) etc. He has been conferred with the highest civilian honours Padma Shri, Padma Bhushan and Padma Vibhushan by the President of India and Award of 'Officer of the Legion d'honneur' by the President of the French Republic, France.
Rajendra S. Pawar, Founder
Mr. Rajendra S. Pawar is Chairman and Co-founder of the NIIT Group, that encompasses two businesses—NIIT Technologies Limited, the software and services arm and NIIT Limited, the leading Global Talent Development Corporation. Mr. Pawar has played a leadership role in nurturing NIIT and building it into a leading Global Talent Development Corporation. By pioneering NIIT's innovative franchising model, he enabled the company to unleash a wave of entrepreneurship across the globe, providing young people with the opportunity to create viable businesses centred on IT learning.
Mr. Pawar led NIIT's foray into the software and services market, creating NIIT Technologies, a global IT Solutions organisation. NIIT Technologies serves clients across North America, Europe, Asia and Australia.
Mr. Pawar is a member of Prime Minister's National Council on Skill Development, a council chaired by the Prime Minister of India. He is a member of the Planning Commission's Task Force on Skill Development and has also served on the Prime Minister's National Task force, which aimed at making India an IT Superpower by 2008. Actively involved in India's key Chambers of Commerce, Mr. Pawar has led several ICT industry initiatives. He has been a Founder Member of NASSCOM (the National Association of Software & Service Companies). He is currently a member of the International Business Council of the World Economic Forum.
Mr. Pawar studied at the Scindia School, Gwalior and completed his B.Tech in Electrical Engineering from IIT, Delhi in 1972. Known for promoting industry-academia alliances, he works closely with many of the country's well-known educational institutions and is on the Board of Governors of IIT Delhi, the Indian School of Business, and the Scindia School.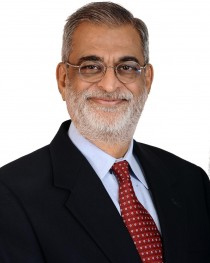 Vijay K. Thadani, Co-Founder and Member, Board of Management
Vijay K. Thadani is the Vice Chairman and MD of NIIT, Asia's leading Global Talent Development Corporation. Mr. Thadani also serves on the Board of NIIT Technologies Limited, servicing customers in the USA, Europe, Japan, Asia Pacific, and India.
Mr. Thadani has led the Group's globalisation efforts since 1991, taking the NIIT flag to over 40 countries. As the Chairman of NIIT USA, and based out of Atlanta (1999-2003), he mentored NIIT's Strategic Alliance programme that resulted in successful acquisitions of leading technology.
Mr. Thadani is deeply involved in strengthening and consolidating NIIT's presence in the Chinese market, where the company began operations in 1998. He was honoured with the position of 'Economic Consultant' to Chongqing, world's largest city in the People's Republic of China.
Mr. Thadani has headed many Industry Associations and Societies including the Indian IT industry association, MAIT. He has also chaired the Indian Government's Committee on National Information Infrastructure Policy. Mr. Thadani has served as the Chairman of the IT Committee of the Confederation of Indian Industry (CII) in the USA.
A 'distinguished alumnus' of the premier IIT Delhi, Mr. Thadani has lectured at prestigious institutions including the University of Michigan Business School, the J L Kellogg Graduate School of Management and the Indian Institutes of Management (IIMs).
Prof. Rajesh Khanna, President
Prof. Rajesh Khanna is the President of NIIT University. He obtained his B.Tech, M.Tech & Ph.D in Chemical Engineering from IIT Kanpur, an institution which has been the acknowledged as the nursery for nurturing students, shaping faculty into knowledge providers of repute & a mother institution for shepherding later institutions. He did post-doctoral research at Institut de Chimie des Surfaces et Interfaces - CNRS Mulhouse, France and was an Honorary Visiting Research Fellow, University of New South Wales, Sydney.
In a career spanning 23 years, Prof. Khanna has held various faculty & administrative positions at IIT Delhi chief amongst them being Head of Department of Chemical Engineering, Dean of Students, Faculty Incharge for Sports, Faculty Advisor for Student Society and mentor to countless number of students. He also served as Vice-Chairman of Joint Entrance Examination. He has contributed to designing new courses to teach soft materials and technology to chemical engineering students. He has also advised many institutes in developing their chemical engineering curriculum.
Prof Khanna has made pioneering contributions in establishing a theoretical, experimental and computational framework to study the breakup of thin films. His research has been well received by the scientific community with more than 2000 citations.
Prof Rajesh Khanna has been an accomplished Sportsman, Sports Administrator, Pigeon fancier and enjoys photography, nature, music and poetry.
Dr. Parimal Mandke, Vice President
Prof. Parimal Mandke is Vice President at NIIT University. With formal qualifications of M.Sc (Bombay University), M.Sc Tech (BITS, Pilani) and Ph.D (BITS, Pilani), her experience spans over 40 years. In the first 15 years of her career, she was a Faculty member and Dean, Educational Consultancy at BITS, Pilani. During her stint at BITS, Pilani, she gave leadership to development of new innovative on-campus and Off-campus Programmes of studies. Noteworthy among them being the off-campus programme, M. S. (S&T), developed in collaboration with CSIR for working scientists of the CSIR system.
As Chief, Higher Education, NIIT, Prof. Parimal contributed to the design of innovative GNIIT/ANIIT/FNIIT programmes and industry-linked Professional Practice. She developed educational alliances with over a dozen Indian and international universities. She worked towards the establishment of the NIIT University since 2002 and when the University became operational in 2009, she held the Office of Dean, Academic Affairs till 2019. She also functioned as the Registrar, NIIT University from 2012-2015.
Prof. Parimal has presented papers and co-authored books in the areas of S&T, R&D Management and Education. She has taught courses in Technology Management, R&D Management, Scientific Method, History of Indian Science & Technology and designed and taught innovative research-driven course like Contemporary Issues at NIIT University.
Her areas of expertise include university development, university partnerships and the academic discipline of S&T.
Air Commodore Kamal Singh (Retired) AVSM – Advisor, Infra-Services
Air Cmde Kamal Singh joined the corporate world in the year 2006, as Senior Vice-President, to lead the commercial functions of NIIT Ltd. after having worked in the Indian Air Force for over three decades. He has been a member of the Corporate Family Group of NIIT Group of companies and is presently the Advisor, Infra-Services and has been associated in the Master Planning as well as building of NIIT University campus at Neemrana.
He is an Electrical & Electronics engineer, with specialisation in Aeronautical Engineering and has served across several geographies and assignments. He pioneered the induction of first digital-radar in the country, led a training contingent for six months at erstwhile Soviet Union and later was assigned for half a decade at the Embassy of India Washington DC as a part of the Defence Attaché corp. This representational role at the Embassy, amongst other responsibilities, included providing nodal support to DRDO on Transfer of Technology for the India's LCA programme.
His career in the IAF afforded him Director of Engineering position in Air HQs, followed by Air Officer Commanding of a MRO Depot engaged in overhaul of missiles and radar-systems, of army and air force. The innovations applied in the management of this key establishment were recognised by an award of Ati Vashisht Seva Medal to him by the President of India on 26 Jan 2004.
He was finally the Commandant of Air Force Technical College, (AFTC) Bangalore, the alma mater of aeronautical engineers, for the armed services as well to some DPSUs and to more than a dozen friendly countries. He particularly succeeded here by getting Hindustan Aeronautics Ltd to avail of residential programmes at AFTC, got a PG recognition from VTU Belgaum to AFTC curricula, and led a collaboration with IIT Madras to launch another of IIT Madras campus in Bangalore, in strategic alliance with AFTC.
He is a progressive farmer, has been promoting wasteland development for over thirty years. The concept of doing unconventional farming on arid lands has been strengthened by him by adopting these in his ancestral village-region. He has helped land the UNDP IDA programmes in north-India. The success of these 'tree-farms' or 'energy-farms' raised new hopes for many and he, in the year 1983, was the first farmer in north India to avail of a commercial bank-loan for Energy-Farms.
He believes, practices and preaches holistic living which includes 'wander-lust' to learn and discover something by being amidst nature and wilderness. He is an avid supporter of yoga, golf and music and indulges in and recommends adventure sports.
Maj Gen A K Singh (Retd), Chief Operations Officer
Maj Gen A K Singh (Retd) is currently the Chief Operations Officer and Dean (Student Affairs) at NU. An alumnus of Indian Military Academy, Maj Gen A K Singh (Retd) was commissioned in the 4th Battalion, The Bihar Regiment in 1974 which he also had the privilege to command, the General Officer has held various Command, Staff & Instructional assignments in his career spanning 35 years.
The General Officer signed off his military career on a high as Deputy Commandant and Chief Instructor of Indian Military Academy, Dehradun.
Having attended Higher Command Course from Army War College, M how and Army Staff Officers Course at Defense Services Staff College, Wellington, the General Officer was awarded M.Phil. (Defense Management) from Devi Ahilya University, Indore & M.Sc. (Defense & Strategic Studies) from Madras University, Chennai. He has also attended NBC Defense Advance Course from NBC Defense School, Caen (France) and Independent Directors programmeme from MDI, Gurgaon. He has been awarded twice with Chief of the Army Staff Commendation Card and an Army Commander's Commendation Card.
The General Officer started his post retirement career with Reliance Infrastructure Limited and joins NIIT University from Moser Baer Power (MP) Limited where he was Head Support Services.